Since World War II ended in 1945, Britain has produced some of the world's best fighters. Here are the best British fighters of the last 60+ years
Britain is a country with a proud boxing history and over the last 50-60 years, much debate has been had amongst knowledgeable students of the game about who is the best of the bunch. Below is my list of the top 10 British fighters in the modern era and while some of my picks may be controversial and perhaps even spark outrage, the great thing about the sport is that no two opinions are ever exactly the same. Notable absentees from my list include Nigel Benn, Howard Winstone, Freddie Mills and Randy Turpin but I believe I have amassed a formidable top 10 that rivals any list on the subject.
So let the debate begin!
Best British Fighters Of the Modern Boxing Era
10. Henry Cooper: Heavyweight 40 (27) – 14 – 1
Perhaps a man with 14 loses shouldn't make my top 10 list but when you have knocked down Muhammad Ali in his prime, you deserve a little credit! Henry's Hammer was a devastating shot and the left hook that took down the 'greatest' in 1963 remains the most iconic punch in British boxing history. Cooper fought hard with the best of them and his aggressive come-forward style would no doubt be effective in today's stagnant heavyweight division. And of his 14 losses; his two defeats to Ali and one to the great Floyd Patterson can perhaps be forgiven!
9. Chris Eubank: Super middleweight 45 (23) – 5
Eubank just about gets the edge over Benn in my list because he once downed and once drew with the 'Dark Destroyer' in one of the greatest British rivalries of all time. Eubank was as tough as they come and during the late 80s and early 90s, he would stand and trade with the very best of them. His ability to change strategy mid-fight gave him the edge over many of his contempories and Eubank knew better than anyone in the game how to salvage a late victory from the jaws of defeat.
8. Ricky Hatton: Light welterweight 45 (32) – 2
Okay, he may not have been the most technically gifted fighter to emerge from British shores but no one can ever question the warrior heart of the 'Hitman'. At his relentless best, Hatton could bully almost any 140 pounder he faced in the ring and undoubtedly the best moment of his career came in 2004 when he forced the legendary Kostya Tszyu into submission after 11 of the most punishing rounds seen inside a British boxing ring. Hatton may not have had enough to beat the very best in this sport but there is no disgrace in losing to Floyd Mayweather and Manny Pacquiao. A cult hero in 21st Century Britain and every bit the people's champion.
7. John Conteh: Light heavyweight 34 (23) – 4 – 1
In terms of pure boxing ability, Conteh was one of the very best of his era but the light heavyweight preferred a playboy lifestyle to hard work in the gym. A talented world champion in his day with terrific natural hand speed and movement, Conteh could perhaps have been one of the greats if he hadn't succumbed to the delights of being British boxing's pin-up boy in the 1970s
6. Lloyd Honeyghan: Welterweight 43 (31) – 5
Honeyghan will always be remembered for causing one of the biggest upsets in British boxing history. In 1986, 'The Ragamuffin Man' stunned the world by beating the then pound for pound number one Donald Curry to win the world welterweight title at just 26 years old. Honeyghan though, went on to prove that he was no one-hit wonder by defending the belt three times, losing it, and then winning the title for a second time in 1988. The Jamaican-born star was very heavy handed and managed to take out many of his opponents in single, powerful shots.
5. Barry McGuigan: Featherweight 32 (28) – 3
McGuigan – who was born in the Republic of Ireland but a British citizen – was one of the all-time great pressure fighters who refused to yield to anyone. The 'Clones Cyclone' won the WBA title from Eusebio Pedroza in 1985 but defended it just twice before he controversially lost it on points to Steve Cruz in Las Vegas in 1986 – the same year he won the prestigious Ring Magazine Fighter of the Year Award. McGuigan's fast and furious style along with his huge heart made him tremendously popular around the world and he remains a cult hero in his native Ireland.
4. Naseem Hamed: Featherweight 36 (31) – 1
At his best during the mid 90s the 'Prince' was absolutely untouchable and in terms of natural talent Hamed tops this list hands down. 'Naz' could do almost anything he wanted to in the ring and with his dazzling speed, immense knockout power, overt personality and general showmanship and he consistently wowed boxing fans across the world. He was involved in 16 world-title bouts and beat some of the best featherweights of his era before running into a prime Marco Antonio Barrera in 2001.
Many maintain that Hamed at his best would have proved too much for Barrera but his one off-night will perhaps define his phenomenal career. If he had the heart and mentality of some on the list to go with his outrageous skills, we can only imagine how far he could've gone but instead, we are left to wonder what might have been. Hamed retired just one bout after his first and only loss.
3. Lennox Lewis: Heavyweight 41 (32) – 2 – 1
The London-born powerhouse Lewis proved himself the greatest heavyweight of his era and along with Muhammad Ali and Evander Holyfield is the only fighter to win the world heavyweight crown on three occasions. But despite Lewis' dominance of the division, question marks remain over the standard of the opposition he faced. His defining wins came against an emotionally-wrecked Oliver McCall, an aging Holyfield and a Mike Tyson who was well past his frightening best in 2002. Lewis was also struggling immensely in his last ever fight with Vitali Klitschko in 2003 where he was perhaps lucky that the fight was stopped in the sixth round due to the Ukrainian's cuts as he was behind on the scorecards.
Having said that, Lewis was able to beat everyone put in front of him as he avenged his only two defeats to McCall and Hasim Rahman (the latter only managing to topple the Brit via a magnificent but lucky punch). His jab was one of the best ever seen in the heavyweight division and that powerful shot alone destroyed many of his opponents. And if it didn't, his huge right hand would usually finish them off!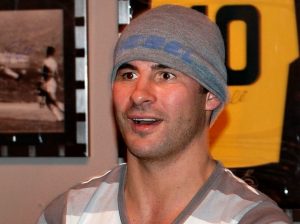 2. Joe Calzaghe: Super middleweight 46 (32) – 0
Calzaghe will always have his critics who say that he never fought the best at their peaks but the '0' in his losses column speaks volumes and when the dust settles on a stellar career, that is what the history books will remember. The 'Pride of Wales' must also be given credit for being the longest-reigning world champion in recent years having held the WBO super middleweight title for over a decade until he relinquished it to concentrate on fighting at light-heavyweight.
Calzaghe had an unorthodox style where he often kept his hands very low but his reflexes were so quick that opponents would rarely catch him on his rock-solid chin. Calzaghe's hand speed and stamina were his most potent weapons and though he was not the most heavy handed of fighters, he would often overwhelm opponents with the sheer volume of fast punches he threw. His career defining win was perhaps his one-sided annihilation of the then unbeaten IBF super middleweight champ Jeff Lacy in 2004 but his wins over Mikkel Kessler and veteran Bernard Hopkins are equally significant. In his last fight, Calzaghe schooled a spent Roy Jones Junior.
The only slight disappointment is that we will never know how good Calzaghe really was as he never fought the very best at their very best. A peak Calzaghe vs. a peak Jones Junior would have been fascinating!
1. Ken Buchanan: Lightweight 61 (27) – 8
Buchanan confirmed himself as one of the best ever Brits after he travelled to Puerto Rico in 1970 to snatch the world lightweight title from the much-fancied Ismael Laguna. The Scot defended the title twice before losing to another Panamanian legend Roberto Duran in 1972. Duran proved the only boxer to ever stop Buchanan and the only man to convincingly beat the Scot in his prime.
Not a fighter with immense knock out power, Buchanan was an extremely fast boxer who would often use his tremendous movement and defensive skill to outpoint his advisories. Amongst his list of victims were legends of the sport such as Carlos Hernandez, Carlos Ortiz and fellow Scot Jim Watt. Like many fighters, Buchanan fought on for longer than he perhaps should have done. He lost six of his last 11 bouts (including his last four fights in the early 80s) and up until 1975, Buchanan's record was 57 (25) – 2 with his only losses coming from Duran and Miguel Velazquez in controversial fashion.
Buchanan fought the very best in his division time and time again and consistently proved that he deserves to be mentioned alongside the other all time greats in boxing. Buchanan was added to the International Boxing Hall of Fame in 2000 and is truly worthy of the title of: 'the Best British Fighter of the Modern Era'.