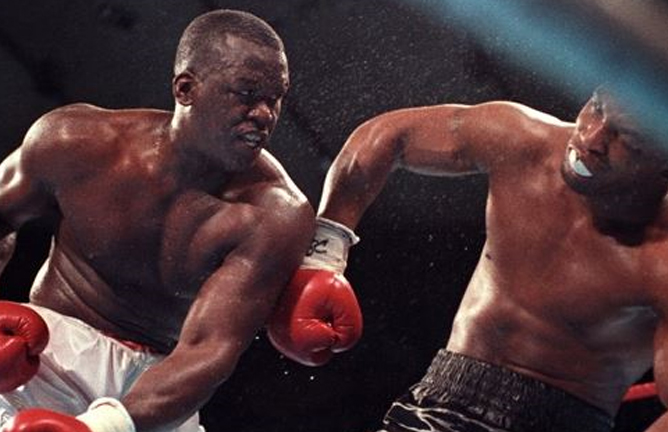 Boxing expert and history-buff extraordinairre is back with another one of his great all-time top 10 boxing lists. Here, you can check out Steve Farhood's list of top 10 underdogs who pulled off extraordinary upsets against some of the best fighters in boxing history.
The timing for the list is Showtime's upcoming tripleheader, which has been lambasted for a lack of quality fights. They have been touting the underdog roles and saying that anything can happen. In any event, the list is worth checking out.
Biggest Upsets in the History of Boxing
Buster Douglas KO 10 Mike Tyson, February 11, 1990, Tokyo (Wins WBA, WBC, IBF Heavyweight Titles) – Tyson is 37-0, Douglas is a 42-1 underdog in at least one Las Vegas sports book; not even Nostradamus saw this coming.
Evander Holyfield KO 11 Mike Tyson, November 9, 1996, Las Vegas (Wins WBA Heavyweight Title) – Tyson opens as 24-1 favorite; not first or last time "Real Deal" is overlooked.
Randy Turpin W 15 Sugar Ray Robinson, July 10, 1951, London (Wins world middleweight title) – Robinson went in with a ridiculous record of 128-1-2, and hasn't lost since 1943.
Frankie Randall W 12 Julio Cesar Chavez, January 29, 1994, Las Vegas (Wins WBC Super Lightweight Title) – "J.C. Superstar," 89-0-1, suffers first knockdown and first loss in same bout.
Hasim Rahman KO 5 Lennox Lewis, April 22, 2001, Gauteng, South Africa (Wins WBC & IBF Heavyweight Titles) – Rahman does it with one legendary punch vs. ill-prepared Lewis.
Billy Backus KO 4 Jose Napoles, December 3, 1970, Syracuse, NY (Wins world welterweight title) – New York Times lists local challenger, who has 10 losses, as 9-1 underdog; aging Napoles stopped on cuts.
Leon Spinks W 15 Muhammad Ali, February 15, 1978, Las Vegas (Wins world heavyweight title) – Almost beyond belief: In only ninth pro bout, Olympic gold medalist Spinks shocks "The Greatest."
Corrie Sanders KO 2 Wladimir Klitschko, March 8, 2003, Niedersachsen, Germany (Wins WBO Heavyweight Title) – Southpaw from South Africa crushes Wlad with huge left hands.
(tie) Cassius Clay KO 7 Sonny Liston, February 25, 1964, Miami (Wins world heavyweight title) — Muhammad Ali KO 8 George Foreman, October 30, 1974, Kinshasa, Zaire (Regains world heavyweight title) – Ali is at least 7-1 underdog in both bouts; his handlers, in fear of his fate vs. Big George, had reportedly mapped out route from stadium to hospital.
Kirkland Laing W 10 Roberto Duran, September 4, 1982, Detroit (junior middleweight bout) – A 7-1 underdog, the UK's Laing surprises Duran, 74-3 at the time.