Why I Don't Want to See Mayweather vs. Pacquiao Now:
Floyd Mayweather and Manny Pacquiao both won their last fights comfortably. Mayweather won a clear decision in his rematch with Marcos Maidana, a man who had given him genuine trouble in their first encounter, while Pacquiao outgunned Tim Bradley, a man who had controversially beaten him before.
This has once again fueled rumors that the pair could meet in what would represent a clash of the two boxing icons of our generation. This, however, is not necessarily a good thing any longer. Here are the top 3reasons that Mayweather vs. Pacquiao should not happen at this point.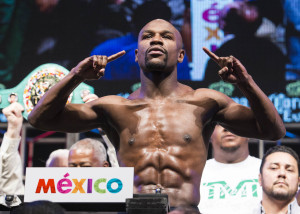 The fight would be a pale reflection of what might have been
Manny Pacquiao will turn 36 years old later this year. Floyd Mayweather is already 37 years of age. Two titans of sport they may well be, but neither man is in his prime. The movements that were once so natural are faded. Attacks once forged on instinct are now forced. It just isn't the same, especially in the case of Pacquiao.
A fight between the pair would make a lot of people happy, simply to see what it looks like when Mayweather and Pacquiao share the ring. It would also make all involved a lot richer. But this fight would be nothing compared to what it could have been had it happened in, say, early 2010, when Mayweather had come back with a win over Juan Manuel Marquez and Pacquiao had just beaten Miguel Cotto via 12th rd TKO. Back then, Mayweather vs. Pacquiao was an absolute must-make, can't-miss, but circumstances have changed since.
Were this fight to happen now, we would end up seeing two shadows of their former selves. Mayweather's slippage has been masked by supreme conditioning and subtle defensive techniques, but Pacquiao's decline has already included a brutal knockout defeat. We can kid ourselves all we want, but this wouldn't be the real thing.
The fight would be dull and one-sided
Pacquiao lost twice in 2012, once controversially and once conclusively. His much-debated defeat to Tim Bradley nonetheless hinted at signs of his demise. The Filipino, who was once so relentless, was unable to close the show and gave up crucial rounds in the final third, something that was very uncharacteristic of him. In his defeat to Marquez, we saw Pacquiao knocked out cold, face first on the canvas. It was uncomfortable viewing, and a violent confirmation that Pacquiao was on the slide.
Mayweather, in this writer's opinion, would have out-boxed the best version of Pacquiao. Stylistically his defensive genius and precise punching would have offset the raucous offensive raids of Pacquiao, who would also be the smaller man.
Nowadays, Pacquiao thinks that split second longer. Where once he fought with forceful certainty there is now lingering doubt. Mayweather has a weakened, aging and less vicious monster in front of him now compared to that which first emerged at welterweight in 2009. Given that, and the fact that Mayweather continues on unabated and undefeated, this fight could be a dull, one-sided victory for Mayweather.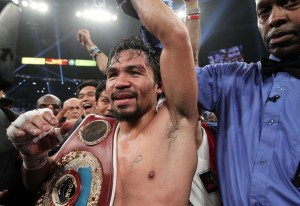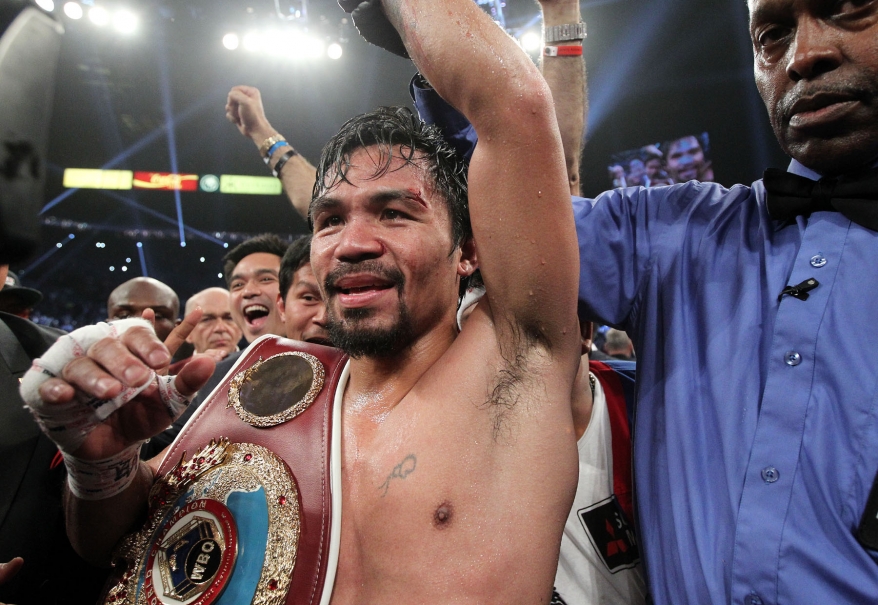 The fight's result would be a misrepresentation
Were Mayweather and Pacquiao to fight it would no doubt herald a large amount of sentimental applause as two legends finally agree to come together. There would be huge levels of media hype, and it is more than likely that many would be misled into thinking that this fight would offer some sort of conclusion to the age-old debate as to which fighter was greater.
In reality, this fight represents two old greats getting it on because all other options have been exhausted and money can be made. Regardless of the outcome of the fight, once the sentimentality dissipates people would still hark back to 2009 and ask what would have happened had Mayweather and Pacquiao fought then.
The fight would also no doubt be used by Mayweather as a tool of historical self-promotion, an opportunity to reaffirm that he is the greatest boxer that has ever lived. Such assertions are, of course, nonsense. Even given boxing's subjectivity, Mayweather's list of opponents and the circumstances in which he fought them does not breed a historical ranking ahead of the likes of Muhammad Ali or the Sugar Ray's– Robinson and Leonard.
Were Floyd Mayweather and Manny Pacquiao to fight now, a long and often ugly saga would come to an end, but not in the right way. The fight is so far past its sell-by date that it would leave an unsavory taste. It didn't happen when it should have, and there is no changing that.
Now we can choose to see a watered down version of it, or continue to discuss i
t with the subjectivity that makes boxing beautiful. I personally would opt for the latter. This fight is best left un-fought.
Comments
comments