The 5 Fighters We Really Don't Want to See Anymore:
In all sports, there are athletes who overstay their welcomes. The ones who get looked at the most fondly are those who go out on top, leaving you thirsty for more. Then there are those who hang on for years past their primes. While we try not to count it against their legacies, they sour their image and lose a lot of luster by laboring on and struggling when they once thrived so brightly.
It's one thing to see an old Willie Mays struggling with fly balls, but in boxing a timely exit takes on far more importance. No one has to make a team in boxing. A guy can keep fighting as long as a promoter will book him. A lot of the legends in this sport serve as a walking warning of the dangers. Two of the most famous fighters ever, Sugar Ray Leonard and Muhammad Ali, were profoundly affected by staying on too long. We saw what happened to Terry Norris, which is heartbreaking. There comes a time when it's clear a guy needs to quit. Every subsequent fight takes place in the "danger zone," where grave damage can be inflicted.
Boxing is the one area in society that is immune to the increased awareness of safety. In all walks of life and in the world of sport, there is heightened concern to reduce some of the ugliness as it pertains to health. Kids wear helmets for anything that isn't walking. You can't lead with your head in football anymore. They sit guys indefinitely if they get a concussion. But then in boxing, it's like we're still in 1932. Here are 5 fighters who are operating in the danger zone:
Shane Mosley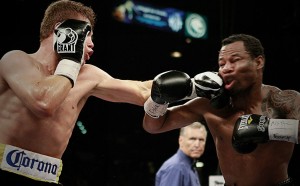 I found it offensive when I heard some say Mosley, 41, looked "good" in his last outing, a too-close-to-call decision over Pablo Cano in Mexico. A guy who used to be one of the very best fighters looked good barely beating a fighter who might have been suitable sparring partner for him in his prime? No way.
It seemed Mosley had played out his career as far as he could after winning 2 rounds max in 36 rounds of action against Floyd Mayweather, Manny Pacquiao, and Canelo Alvarez. The last one, against Alvarez, was a hard-to-watch farewell fight. Somehow though, it seemed a suitable exit that allowed him to go out fighting on a big card and getting a good payday. Now we have to stomach this comeback that can only end one way. Shane has clearly had enough already.
The bottom-line is that he didn't look good. His speech is somewhat alarming and taking more punches in your 40's doesn't really make that any better. During the fight's many exchanges, he looked to be cognitively threadbare, his anticipation of punches basically reduced to hoping nothing bad happens. Someone make it stop.
Erik Morales
Yeah, I know it's coming to an end here soon, but it's already too late. Now we have to endure a "farewell fight"–a custom that people should bid farewell to. This isn't the Temptations doing a farewell tour. People get hurt doing this. Now the drums are beating for a fight with Humberto Soto as his swan song, when he should just fight some .500 clubfighter and just hope that goes well. While Soto may have slipped some, the match-up is still cringeworthy. I just don't want to see this guy taking punches anymore.
James Toney
At least his recent appearances have been out of view for his American fans. It had to be hard to see a once-phenomenal fighter lose to the likes of Denis Lebedev–a guy he would have chopped to bits a decade ago. Toney, 44, has only fought 5 times since 2008 and still has never been stopped–to his credit. In his latest outing, he went to Australia to lose to someone named Lucas Browne. When you lose to a big lug like Browne who looks like one of Telly Savalas' henchmen from Cannonball Run II, it's time to hang 'em up. Toney will do what he wants, but it's hard seeing one of the generation's most-skillful fighters losing to nobodies. It doesn't get any better from here, either.
Roy Jones, Jr.
You would think with the passage of time, the sport's historically-unforgiving nature, and the added queasiness toward head injuries that Jones would have been forced into retirement by now. As long as there are greedy and ignorant promoters in Europe, legends like Jones, 44, will continue to fight, despite their expiration dates being so expired that you can barely even read the print. Of all the fighters on this list, this is the one that is the most worrisome.
With a nice gig on HBO, Jones, Jr. should do the right thing and hang 'em up. But some legends like Roy are stubborn in acknowledging what everyone has been able to see for years. That's when they need help in being coaxed to the pasture that awaits all fighters. We've seen the poor guy left for dead in the ring now multiple times and if he keeps pressing his luck, he's going to pay a steep price.
It's especially sad after hearing Roy talk for all these years about the dangers of the sport and how he won't let it happen to him. And that's exactly what he ended up doing. This sport has enough problems and if Jones, Jr. were to get hurt in the ring badly, it would be a huge black eye on the sport. The risk/reward ratio is so out-of-whack now that it's ridiculous. Roy fighting at this point is like betting $1000 on a hand of blackjack, when you would only collect a dollar if you won.
If Roy goes nighty-night again in the ring, how sure are these moron promoters that he's going to wake up this time? The blood would be on their hands. One of the greatest talents in history deserves better than being laid out in his mid-40's in some god-forsaken arena god knows where.
Nate Campbell
Campbell doesn't have the Hall of Fame-worthy resume that those above him on this list have. So impressions count for more and he's really leaving a bad one. It's always sad when a former champ goes out after a long string of losses. I didn't like seeing it with Simon Brown or Frankie Randall and Campbell is playing out the same sorrowful tune. He doesn't seem to be getting hurt, but let's keep it that way. He can still fight a little, but 3-6 in his last 9 is no accident. At 41, it's over.