Problem Solved – Five Intriguing Fights for Broner:
Although still just 25 years of age, Adrien Broner finds himself at a crossroads. Apparently more concerned with making rap music or making appearances at clubs instead of plying his tra,,e he seems intent upon wasting a career that many had predicted for greatness.
Since his humiliating one-sided defeat at the hands of Marcos Maidana, 'The Problem' looked flat posting a win over the tough but limited Carlos Molina and was given all he could handle while earning a unanimous decision in a harder than expected win over Emmanuel Taylor. While time is still on his side, the Cincinnati native needs to get back in the ring against top level opposition if he hopes to reach the lofty heights which once seemed destined for him. Here's a look at five opponents that would offer him a chance at gaining superstar status.
Robert Guerrero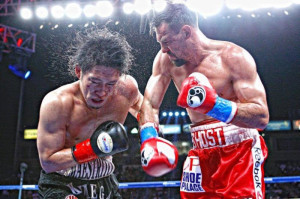 Looking to rebound from his loss against pound for pound kingpin Floyd Mayweather, Guerrero started off strong but had to dig deep in earning a decision versus then once beaten Yoshihiro Kamegai this June. His recent transformation from aggressive counter puncher to a mauling, smothering brawler would make a bout with Broner an interesting clash of styles.
Can Broner better handle this type of style than he did in the Maidana fight?  Did 'The Ghost' come away from his bout with Floyd better prepared to face the shoulder roll defense?  The heated verbal exchanges the two fighters took part in during the build up to the Guerrero-Mayweather fight leads one to believe any promotion between the fighters would make for must see viewing.
Omar Figueroa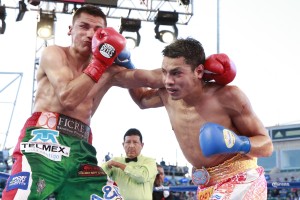 Rightfully considered to be one of the most exciting fighters in the world today, the young Texan is one boxer who would surely push Broner to the limit. With outstanding punching power, a solid chin and incredible stamina, Figueroa is the type of fighter who fans love.
Recent problems making weight suggest the 24 year old is ready to move up and a bout between the last two WBC 135lb titleholders seem to make sense. As with many punchers, Figueroa has been hampered by hand injuries but if they hold up he has the style and will to force Broner to answer questions about both his heart and stamina.
Can Broner take advantage of his opponent's porous defense to land his check-hook? Will 'The Problem' wilt when confronted with the non-stop assault of the inexhaustible 'Panterita'?  With his schoolboy good looks and humble demeanor, Figueroa is the polar opposite of the brash, arrogant Broner making a bout between the fighters a promoter's dream.
Shawn Porter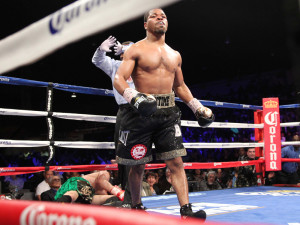 After losing his 147 lbs. title to Kell Brooks in a fight he was favored to win, the 27-year-old Porter needs to reestablish himself as one of the best young talents in the game and a bout with his in-state rival would be a great start. Two of the most highly decorated amateurs to come out of Ohio in recent times, this match-up offers another interesting contrast in styles.
With blazing fast hands and feet, Porter utilizes a bobbing and weaving style to get on the inside where he uses his immense physical strength to wear down opponents. While not the biggest puncher he has shown sufficient pop displayed by his 4 round stoppage of slick veteran Paulie Malinaggi.
Can he bob and weave his way inside on Broner? Will he be able to land the type of looping shots Maidana was successful with? Or will 'The Problem' sit in the pocket and counter those shots with short crisp combinations?  Cleveland's Quicken Loan Arena would be the perfect site for this showdown deciding Buckeye state bragging rights.
Lucas Matthysse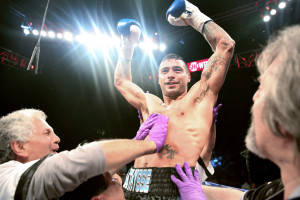 With 34 KOs in 36 wins, the Argentine has bounced back from his loss to Danny Garcia with wins over John Molina and Roberto Ortiz but at age 32 needs bigger name opponents. After sharing a card  in September the fighters appeared on a collision course when Broner used his post-fight interview to call out 'La Machina', and a bout between the two would find Broner up against the biggest puncher he's ever faced, including Maidana.
While not fleet of foot, Matthysse throws a stiff jab and straighter, more compact blows than his fellow countryman. For his part, Broner would be wise to use angles and avoid leaning back to avoid punches. Can Matthysse successfully cut the ring off on the speedy Broner? Does Broner have the intestinal fortitude to stand in the pocket and exchange when he has too?
Will 'The Problem' be disciplined enough to fight smart all 12 rounds against a fighter who's shown the ability to carry his power late into a fight? If caught in another damaging fight, will Broner look for a way out like he did in the 8th round of the Maidana?
Danny Garcia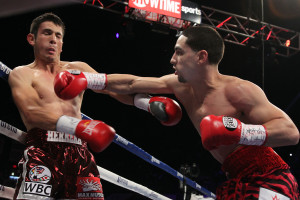 Garcia is another fighter in search of the kind of opponent who could take his career to the next level and a match-up with Broner fits the bill perfectly.  Garcia's ascension to the upper echelon of the sweet science was achieved via actual performances in the ring, unlike Broner whose rise was more about media-driven hype than his accomplishments.
Having been through tough battles with Kendall Holt, Amir Khan and Matthysse, he has shown the type of character a fighter needs to rise above adversity, whereas Broner has failed to show such heart. Although sometimes throwing wild shots, Garcia consistently sticks to his game-plan while showing the ability to adapt during the heat of the battle. Broner seems to rely on his athletic ability and the one time he needed a plan B, versus Maidana, he was at a loss.
If the bombs landed by Matthysse weren't enough to hurt Garcia, what effect will Broner's punches have on him? Facing an opponent with greater ring generalship will 'The Problem' be able to make the proper adjustments during the fight? If able to hurt Garcia, how will he react when his opponent fights through it?
Danny Garcia has shown he possesses those special intangibles that all great fighters have that don't show up on the tale of the tape. Adrien Broner has shown us more style than substance and has yet to prove he has what it takes to live up to all the hype… and that's a problem.