Best Performances by De La Hoya in His Career
Oscar De La Hoya has had one of the more storied boxing careers in history. He may never be remembered as one of the best fighters of all-time, but he defined his generation and captured the attention of the mainstream sporting public. De La Hoya had many notable wins and performances in his career, which are often overshadowed by poor performances or decisions which followed in his second half. Nonetheless, take a look at this list of the top 5 fights, wins and performances in the career of Oscar De La Hoya.
1. Ike Quartey, 1999
In my book, the fight with "Bazooka" Ike was the best win of the Golden Boy's entire career. After losing to de la Hoya, Quartey's career went into limbo and that often overshadows just how tough a customer he really was. Quartey had reigned as WBA Welterweight Champion for almost five years and beaten solid contenders going into the de la Hoya fight, and was widely regarded as the physically strongest and toughest fighter in the division. Some thought he was a bigger banger than even Felix Trinidad. Imagine Joshua Clottey, but only more powerful and with will to win combined with a confident disdain for an opponent's abilities.
When these two met, it was Oscar's rapier-like jab against Quartey's piston. The result was a close fight, with people who liked big, thudding blows favoring "Bazooka" Ike and people who liked sharp shots or favor busy fighters going with the Golden Boy. Both men hit the canvas in the 6th, although Oscar was more hurt than Ike. Sensing he might be behind in the scorecards, de la Hoya came out in the 12th and tore at Quartey with everything he had, knocking the Ghanian down and leaving him slumped half-senseless against the ropes in an action-packed climax. Try as he might, though, Oscar could not knock the tough Quartey out, and Oscar won by a Split Decision.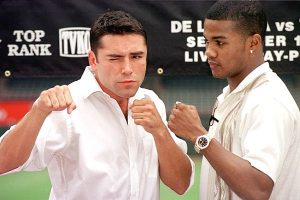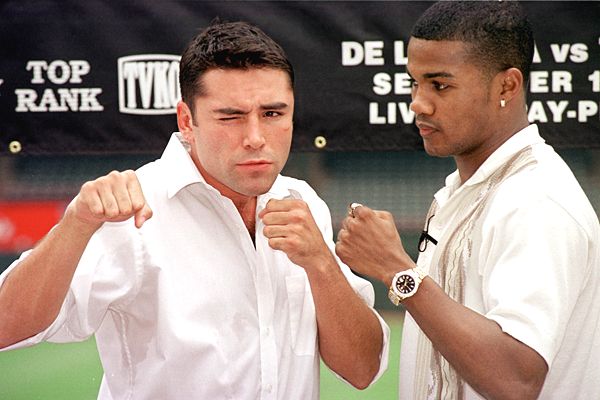 2. Felix Trinidad, 1999
Oscar de la Hoya vs. Felix Trinidad remains controversial to this day, and in my book the Golden Boy was robbed that night. The truth is that whatever you think of de la Hoya getting on his bike and staying away from Trinidad for the final rounds, the Golden Boy clearly boxed the ears off of "Tito" for the first half of the fight, and made doing it look easy. AP scored it 7 to 5 for de la Hoya, and I concur with that verdict. In my book, Oscar beat Felix that night, even Felix Trinidad knows it, and Oscar's game plan became that of everyone who beat Trinidad after that fight. It was a masterful display of how side-to-side movement can defuse even the fiercest matador.
People who remember this period of boxing might recall that Las Vegas was catching a lot of heat at the time for its scoring of de la Hoya. In the Quartey fight, for example, even people who thought Oscar won did not think he won by margins of three and four rounds as some judges scored it. Many look at what happened in the scoring of the Trinidad fight as the judges trying to be "extra fair," which was of course utter hogwash and merely underscores the utter lack of professionalism among many of the sport's "top" judges. Two wrongs don't make right.
3.Shane Mosley II, 2003
Few gave de la Hoya a real chance against "Sugar" Shane in their rematch, given the way Shane had so convincingly beaten him in their first encounter. However, the Golden Boy came in much better prepared that night, resulting in a tactical boxing match with some razor close rounds. The bottom line, however, is that the Golden Boy had the edge in most rounds. He was the busier fighter who threw more, landed more, and was sharper and more accurate. Shane's own father told him he needed a knockout to win going into the 12th Round. Oscar gave his all and put in a stellar performance only to once again be robbed by the judges. Further tainting Mosley's "victory" (and thereby enhancing Oscar's own performance) was that Mosley later admitted to using PEDs to prepare for the fight.

4. Genaro Hernandez, 1995
The recently deceased Hernandez was one of the true gentlemen of the sport, and one of Oscar's earliest challenges. Hernandez was 32-0-1 when he fought de la Hoya, and contrary to later charges that Oscar only fought old, used-up guys at that stage of his career, Chicanito was 29. Oscar dominated his cross-town rival, catching Hernandez on the nose with a smashing uppercut. Hernandez's nose was broken so badly he was forced to quit in the 6th.

5. Fernando Vargas, 2002
Oscar de la Hoya didn't like Fernando Vargas very much, but Vargas despised de la Hoya. Oscar had pledged never to fight Vargas, so little did he care for him, but when they eventually did meet it was grudge match based on cross-town rivalry, mutual dislike and enhanced by Vargas's jealousy. The fight produced plenty of action, but the story was largely one of de la Hoya out-boxing and out-punching his bigger rival (even though Judge Patricia Jarman somehow had Vargas ahead by three rounds), concluding with a hard 11th Round stoppage. Further highlighting de la Hoya's dominance was that, once again, his opponent was shown to have used steroids.