The Worst Chins in Boxing In the Past Decade:
In a sport where taking a punch well is almost a prerequisite, having a glass jaw is a severe handicap. I say almost because some fighters manage to develop a style that maximizes their assets while shielding their china chins.
However, it is far more common for the inability to take a punch to prove an insurmountable career hurdle, becoming the obstacle that separates a journeyman from becoming a fringe contender or a true world class boxer. Even a cursory glance at the five worst chins in modern boxing will reveal both fighters who have thrived despite the handicap, and fighters who have floundered because of it.
[Also See: Top 10 Hardest Punchers in Boxing Today]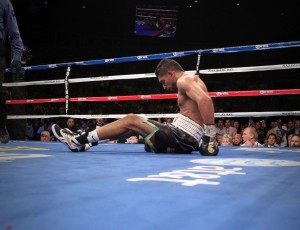 Amir Khan: Khan's glass jaw was exposed by Breidis Prescott back in 2009, but in coming back Khan seemed to have tailored his approach and his matchmaking to shield that jaw from further harm. "King" Khan's style is that of an aggressive boxer-puncher who relies on fast hands and hard hitting power, and for a while he prospered by sticking to opponents whom Khan could either beat to the punch or who lacked the power to dent his suspect chin. Observers began to think he had the jaw issue licked, at least until Khan ran into Danny Garcia. Khan has good assets, good enough to beat most welterweight contenders and win a world title again, but those assets aren't enough to match the pinnacle of his division.
Enzo Maccarinelli: A grizzled veteran of the cruiserweight and light heavyweight divisions at 33, Maccarinelli is the kind of fighter who, win or lose, rarely sees the final bell. He hits the canvas a good bit along the way too. If someone with decent power connects with Maccarinelli's chin, it's as good a bet as there is in boxing that he is going down.
Audley Harrison: Harrison's inability to take a punch was a big part of his failure to translate a glittering amateur career into professional success. Not everyone can get past his height, reach, and southpaw ways and nail him, but if they can, it's tiiiimber! time for the hapless Harrison.
Lucian Bute: Bute is something like Khan, albeit with a somewhat better chin. His speed, skill, power, and aggression masked his substandard jaw for a long time, although a hint of what was there came in the 2008 fight with Librado Andrade. Then along came Carl Froch and BLAMO! Bute's below average jaw was well and truly exposed. Grachev roughed Bute up a bit in the Quebecois-Romanian's last fight as well.
Wladimir Klitschko: Big Wlad is the success story for shielding a bum jaw, but that fact shouldn't make us forget he does indeed have a bum jaw. The last time someone got to it was Sam Peter in 2005, and Peter rocked Klitschko repeatedly. Make no mistake about it, the king of the heavyweights can be hurt. The problem is reaching that suspect chin of his.