No Mayweather vs. Pacquiao, No Problem:
Manny Pacquiao's 12-round dismantling of the over-matched but game Chris Algieri once again has the sports world clamoring for the long awaited showdown between the Filipino whirlwind and boxing's long reigning pound for pound king, Floyd 'Money' Mayweather. With both camps continuing to deliver nothing but lip service though, lets take a look at 5 fighters who would be excellent second choices to face off with PacMan.
1. Amir Khan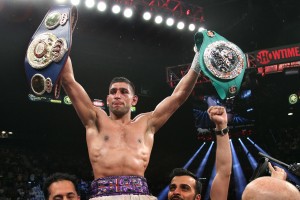 The '04 Olympic silver medalist looks to further establish himself as one of the best welterweights in the world when he takes on former belt holder Devon Alexander on December 13th in Las Vegas. After bouncing back from a disastrous kayo at the hands of Danny Garcia, which cost him a shot at Floyd Mayweather, the Brit stepped up his level of competition and looked fantastic defeating Luis Collazo.
The 5'10" Khan possesses the physical attributes to give Pacquiao fits as well fast hands and good movement. Factor in the Brit's contentious split with trainer Freddie Roach, plus the time both fighters spent in camp sparring, and the match-up has an excellent storyline. New trainer Virgil Hunter would look to have Khan use his length and outstanding jab to keep his much shorter opponent on the outside while Pacquiao would look to use angles and his incredible footwork to force exchanges on the inside.
Although Hunter appears to be the perfect trainer for Khan he is unable to perform a chin transplant and any Khan fight always comes down to that oh so fragile chin.
2. Danny Garcia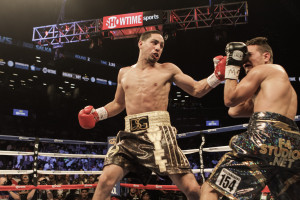 The 26-year-old Garcia burst onto the boxing scene by separating Khan from his senses during their 2012 fight. From there, he scored a comprehensive upset victory over the hard punching Argentine knockout machine Lucas Matthysse  in a fight in which the overwhelming majority of pundits had predicted doom for him.
Unfortunately for 'Swift', the euphoria of that win was quickly dashed when he struggled to earn a split decision win over Mauricio Herrera, and then took on the incredibly overmatched and unranked Rod Salka.  The mismatch lived down to expectations when Garcia demolished the outgunned journeyman in the 2nd.
Still, Garcia has the pedigree and confidence to beat any fighter at 140 or 147 lbs. A lethal left hook, rock solid jaw and fa- friendly style make the young Philly fighter a perfect opponent for Pacquiao in a bout that could feature the end of one boxer's run as a top PPV draw and the start of another.
3.  Adrien Broner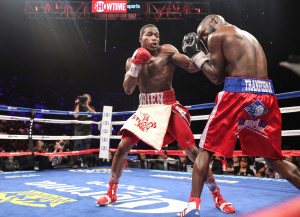 Oh what a difference a year makes!  This time last year the then undefeated Broner was telling everyone in earshot that he was going to do a number on poor Marcos Maidana. What was supposed to be the last step in making 'The Problem' a PPV caliber fighter instead turned out to be a one sided beat-down.
Since that embarrassing loss, the talented but undisciplined Ohio fighter has registered two comeback wins in bouts that did little to enhance his damaged reputation. Broner needs a win over a high profile opponent to convince his critics that he belongs in the pound for pound discussion and who's a more high profile opponent than Pacquiao?
Stylistically this fight could tell us a lot about what would happen if Floyd and Manny ever did face off. While not remotely the boxer Mayweather is, Broner does try to emulate his idol in the ring and has excellent athleticism that would offer Pacquiao the chance to test himself against 'Money-lite'.
Add to it Broner's substantial following, his flamboyant lifestyle and penchant for controversy this bout has all the ingredients of an attractive event. The fight would sell, and it would be an easy set-up for Mayweather vs. Pacquiao next, assuming Pacquiao was able to handle the Problem.
4. Ruslan Provodnikov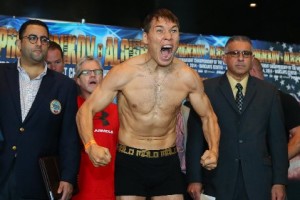 'The Siberian Rocky' was riding a huge wave of momentum when he faced the then undefeated but largely unknown Algieri. It was planned as a showcase fight which would lead to a big money fight against Pacquiao, but turned into a stunning and somewhat disputed split decision loss. After dropping his opponent twice in the first round, Provodnikov had difficulty dealing with Algieri's constant movement and high volume of punches.
Frustration over not being able to land a name opponent for his next fight led to the fighter taking his talents back to Russia for this Friday's bout against long-faded, 40-year-old Jose Louis Castillo, which looks to be an utter mismatch. A Pacquiao vs. Provodnikov fight would seem the easiest fight to make with no promotional issues standing in the way and the Russian having built a loyal viewership of his own.
It remains to be seen if, after almost 15 years as a professional and 64 bouts, the kind of punishment a bout with his Wild Card stablemate appeals to the PacMan at this stage of his career. Their status as gym-mates also lends some difficulty to making this fight a reality.
5. Terence Crawford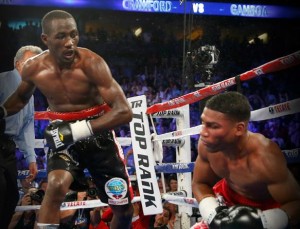 The 27-year-old Crawford has seen his stock skyrocket following an outstanding performance in Glasgow against Ricky Burns, and an even more impressive stoppage of the highly touted Yuriorkis Gamboa. With a win over Ray Beltran this Saturday, Crawford could put himself in contention for Fighter of the Year and enhance his chances for a high profile match.
Having already mentioned a desire to move up in weight, the switch-hitting counter puncher could make a very attractive opponent for Pacquiao.  Having the backing of HBO and sharing Top Rank as their promoter makes this bout easy to make, although Crawford may not yet have the marquee value and his fight against Beltran is far from a gimme.