Fans are continuing to speculate on Anthony Joshua's (9-0, 9 KO's) path to world glory, and just how good the unbeaten fighter is at this stage of his still-young pro career. With the Englishman being the focus of a huge amount of attention since picking up Olympic gold at London 2012 many boxing fans anticipate a big step-up for Joshua in 2015.
The colossal heavyweight stands at 6'6", and as is clearly evident, has a destructive arsenal with power in both hands and a golden amateur background. It's difficult to believe that the Londoner only started boxing seven years ago.
He's been dispatching of his opponents with ease, and as Joshua continues to perform outstandingly, many are hoping he's the long-awaited heavyweight savior. It seems as though Anthony Joshua is a victim of his own success, after accumulating an Olympic gold medal and a 100% KO record since turning professional, many boxing fans would happily see him square off against some of the world's best already.
With all signs pointing to full steam ahead for Joshua's career, why don't we do what we do best and venture into a look at his top potential fights. Here are the top 5 potential fights for Joshua in 2015.
David Price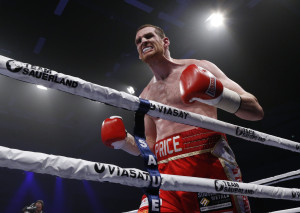 This potential match-up is no secret, as Eddie Hearn broached the subject after Joshua steamrolled through Denis Bakhtov. David Price welcomed the clash when he stood as a pundit ringside. Price (18-2, 15 KO's) had England's hopes pinned on him prior to Joshua's success, until he was unceremoniously and consecutively KO'd by Tony Thompson. Since Price's two losses he has struggled to establish himself on the European stage, taking moderate to low-level fights to rebuild himself.
This could be a great fight for Joshua with many believing he has already least fast-tracked to this standard in a short time, if not surpassed it. The former British great hope versus the current.
Potential Joshua vs. Price Happens in 2015: 75%
Tyson Fury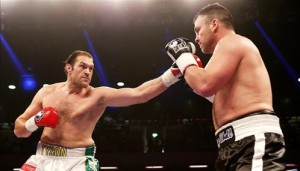 Fans worldwide would love to see trash-talking Tyson Fury (22-0, 16 Ko's) go against Anthony Joshua. If Fury passes his second test against Dereck Chisora, then this could be a possibility for 2015. However, a rebounding Fury could still be a great opponent for Joshua.
Fury is the taller man at 6'9", vastly more experienced in the pro ranks, and surely this would be a major step up for Joshua. He's also been open to stepping in there with his younger British adversary, and as usual, he's had plenty to say about the prospect.
Potential Fury vs. Joshua Happens in 2015: 33%
Dereck Chisora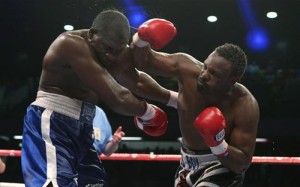 After the Fury vs. Chisora rematch, this could be a possibility. This would make a great platform bout at the beginning of next year regardless of the outcome in Chisora's (20-4, 13 KO's) next contest.
It would be interesting to see how Joshua would react to the come forward slugger. You'd expect the Olympian to have too much skill for Chisora and it would be an indication of how hard Joshua actually hits, although no-one is doubting his formidable power so far. Chisora's been on a tear lately and even if you beat him, he's rarely an easy out.
Potential Joshua vs. Chisora Happens in 2015: 50%

Deontay Wilder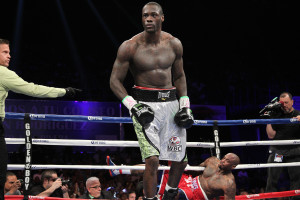 Dangerous Deontay Wilder (32-0, 32 KO's) also possesses a 100% KO record, only his may impress a little more with 32 KO's in 32 fights. The Bronze Bomber is currently one of the highest regarded fighters in the division, and you would be forgiven for thinking this fight is too dangerous and far too soon. But depending on what fights are made in the next year, this has potential for great marketability.
Two unbeaten Olympic medalists with massive KO power has the makings for a huge heavyweight event. Don't expect to see it soon though, they'll need to build this one up quite a bit.
Potential Wilder vs. Joshua Happens in 2015: 10%
David Haye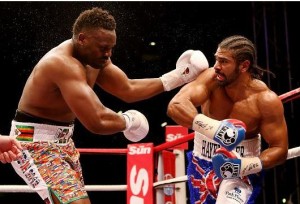 Eddie Hearn emphasized the possibility of this battle just weeks ago, a somewhat shocking rumor. Former world champion David Haye (24-2, 22 KO's) has been out the ring since July 2012, and always seems to be in and out of retirement, talking a big game all the while.
Although Joshua is naturally the bigger man it might still be too soon to see if he can withstand Haye's power. Twenty-two boxers have fell victim to Haye's devastating force, including Chisora. Hearn hinted at this fight being made for the winter of 2015, and Joshua would need to have sufficient tests in the build up to this, as it would be a huge step up.
Haye might have too much power and experience for Joshua at this stage, although coming off of two plus years of retirement, his ring rust and inactivity could get the best of him against an opponent with so much size and power.
Potential Haye vs. Joshua Happens in 2015: 50%