What's next for Amir Khan
After a crushing defeat to Danny Garcia this weekend, Amir 'King' Khan's career seems to be in disarray. Many now question Khan's ability to fight against tougher opponents, and some critics, such as fellow British boxer Carl Froch, have even suggested retirement. However, let us take a look at some possible opponents Amir may still be able to come up against. Khan, just 25 years old, has plenty of time to come back even better than ever, and he could also choose to jump right back in there with another big name.
Here are 5 potential next fights for Khan – consider this a wish list of the fights we'd like to see, but not those which are the most likely to happen.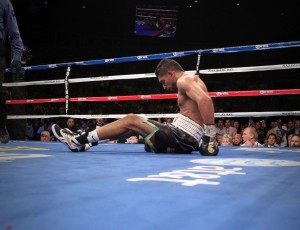 Timothy Bradley– If Bradley-Pacquaio II does not occur, Bradley may choose to fight Amir next instead, as he had always received criticism for not facing him last summer. However, Amir's latest defeat may push him further away from Bradley, and in his recent statement, Khan said he plans on fighting at 140 lbs, whereas Bradley is staying at welterweight for the time being.
Victor Ortiz– A fight between Ortiz and Khan would seem a plausible option between both camps, as each man has something in common: they have both lost two fights in a row. Both backed by Golden Boy, it would be an easy match to put together, however, don't expect Golden Boy to so easily line up one of their bright young stars for a 3rd straight defeat.
Danny Garcia II- A rematch seems to be improbable as stated by Garcia's camp. But of course Khan fighting against Garcia again, and defeating him, would grant him some serious redemption. But don't expect to see this fight anytime soon.
Lamont Peterson II– After a controversial split decision win in their first fight, followed by a drug scandal and the cancellation of their rematch, this fight would now offer each man a chance to score a big win and wipe their slates clean. However, it's unclear how long Peterson is going to be out of action for, considering potential suspensions.
Brandon Rios– The still undefeated 'Bam Bam' is coming into the junior welterweight division, and plans on making a splash right away. Surely, he'd love to take on Khan. However, Khan's team would be very reticent in putting this match together, especially coming off another knockout loss.
The hope for most is that Khan will be able to make a remarkable comeback after his tragic defeat against Danny Garcia. That's now three career losses, including two in a row and two by crushing stoppage. It will be interesting to see how this will pan out in the upcoming months. Ultimately, the above 5 opponents are more of a wish list than anything else. Expect Khan to get in there with a much more mid-level type opponent in his next bout than any of the fighters mentioned above.
Comments
comments