While boxing fans direct most of their ire at incompetent or corrupt judges, plenty of bile is leftover for the failings or willful misdeeds of referees. Even the most august of referees in boxing have one or two blemishes where they made a bad call or lost control of events.
Most of these bad or blown calls are merely embarrassing, such as the failure of celebrity referee Jersey Joe Walcott to properly administer the conclusion of Ali vs. Liston II. Others appear bad or blown, but in reality were proper actions, like the infamous Long Count of the Tunney vs. Dempsey II fight. Yet beyond this mix of amusing and unfortunate incidents are the truly ugly referee calls that change the outcome of a fight, grab headlines, and stink to the heavens. At the top of that pile of garbage referee calls are the 5 worst in boxing modern history:
5. Laurence Cole: Marquez vs. Jaca (2006): Marquez was reeling from an accidental headbutt when Cole, in an act of favourtism so blatant you can see it on video, told Marquez he was ahead on the scorecards and asked him if he wanted to stop the fight. Much to his credit, Marquez refused an easy TD6 and stayed in the fight to win a fair KO9. Cole was suspended, and has been tarred by allegations of corruption ever since.
This isn't Cole's first or last time being at the center of controversy, either.
4. Roy Francis: Eubank vs. Watson II (1991): When Round 11 of this fight ended, Michael Watson was clearly dazed and badly hurt, but ahead on scorecards. When he rose to go out for the 12th, Watson looked perhaps even more concussed than he did when he went to his stool. Even in the heat of the moment, bringing the doctor over to look at Watson, either in the corner during the break or when he practically stumbled out for the 12th bell, was called for. Francis, showing slight interest in Watson's safety, fed him to Eubank like rare roast beef. Watson suffered terrible brain damage and was paralyzed for years.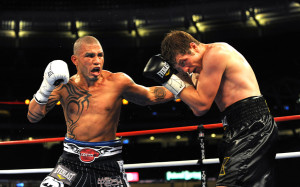 3. Arthur Mercante, Jr.: Cotto vs. Forman (2010): The awful, dangerous job Mercante, Jr. did in refereeing this fight can be summed up in one question that I direct at Mr. Mercante himself: where do you get off overruling a boxer's corner when they choose to throw in the towel?
2. Dan Kelley: Courtney Burton vs. Emmanuel Augustus (2004): Augustus won this fight hands down, despite Kelley ignoring multiple fouls from Burton, and citing Augustus a few times for fouls that were imaginary. With the dirty referee complimenting the dirty judges, Burton won a split decision, but the outcome was so incredibly stinky that this journeyman-level fight televised on ESPN attracted major national attention. Not only was Kelley suspended, but the Michian State Athletic Commission was sacked in the aftermath.
1. Roger Tilleman: Sven Ottke vs. Robin Reid (2003): German officials are often accused of corruption, with this case standing at the forefront. Tilleman was clearly favoring Ottke going into the 6th, but the call he made in that round brought German boxing and Ottke's reputation to a new low. Reid cleanly knocked Ottke down, whereupon Tilleman not only ruled it a slip, but then deducted a point from Reid for a headbutt that never happened. This shift of three points in and of itself was enough to have made Reid the winner on two of three scorecards that night, but to make matters worse, Reid was so confused and discouraged by Tilleman's actions that his aggression noticeably slackened for the second half of the bout.