What's Next for Boxing's Most Humble Goodwill Ambassador, Adrien Broner?
As expected, Adrien "The Problem" Broner had little trouble dispatching a surprisingly docile John Molina Jr. as part of the co-main event (is that even a thing?) during the inaugural Premier Boxing Champions broadcast on NBC ten days ago. Although more offense was expected out of Molina, the flow of the fight clearly favored the quicker, more methodical Broner that evening. Relying on a steady barrage of jabs and lunging combinations, Boner held Molina Jr. off and picked up the victory by unanimous decision.
Broner pitched a rather blase shutout which, though certainly better than a questionable win or shocking loss, has done little to further his self-professed campaign as a legitimate headliner of a major card. Therein lies the problem with "The Problem."
Well, one of the problems, really. Honestly, there is so much confusion around the management and handling of Broner's career, as well as what goes on behind the eyes of the man at any given moment, that one can't help but be fascinated by Cincinnati's "Big Head Machine."
Also, for the purposes of this examination, we're going to assume that Broner's June 20th slot with no opponent named is still in play given the recent revelations of a January 2015 DUI arrest that went magically under the radar in the months leading up to his co-headlining (still not a thing) the debut episode of Premier Boxing Champions.
Top choice: Amir Khan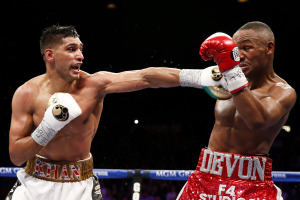 Every discussion about Broner's next big fight must start and end with boxing's proverbial middle child, if only because of the buzz each man has generated of late regarding a potential matchup.  Did the fight you really want fall through? Amir Khan's waiting. Called out by someone only seconds after your last fight ended? Check the Twitter account of @AmirKingKhan. You get the point.
Still, when you think about it, there may be no better match from an entertainment perspective than Khan vs. Broner, regardless of the venue they'd end up selecting, though Wembley Stadium seems like a bit of a stretch. Plus, if the Marcos Maidana fiasco wasn't enough to show Broner that fighting up at Welterweight requires more than just saying you'll do it, the quick and powerful Khan could prove to be a stark and painful reminder. Broner may openly say he wants this fight, but he'd be wise to avoid it at all costs.
When that doesn't happen: Mid-tier Junior Welterweights
Currently, Broner is our 9th ranked Junior Welterweight, and for good reason.  With the likes of champ Danny Garcia, Lucas Matthysse, and even Lamont Peterson ahead of him–and currently receiving all of the buzz the division has to offer–there's little Broner can do to improve his standing at 140.
After out-pointing the "Walking Dead"-like Molina Jr. there's not a ton of incentive for anyone at the top of the weight class to take a flyer on Broner. Not to mention that Garcia and Peterson are set for an April 11th showdown, along with the fact that Broner's friendship with Peterson would hinder that fight, and Matthysse is locked and loaded to face Ruslan Provodnikov.
Two interesting opponents with relatively open dance cards at the moment though which could give Broner a bit of the credibility he so sorely needs at the moment would be Jessie Vargas (our #3 ranked Junior Welterweight) or Chris Algieri (#6).
Vargas would come into the bout with a perfect 26-0 record and a very impressive string of victories of late, punctuated by his unanimous decision win over Antonio DeMarco this past November. Algieri, of course, only has one blemish to his professional record and that came courtesy of a shellacking by the hands of Manny Pacquiao back in December.
Matchup problems abound for "The Problem," given that each guy checks in about four inches taller, but such will be the case for Broner at 140 lbs. As of press time, neither had been mentioned for Broner's open June 20th date, and something would have to happen soon to make either of these fights a viable option.
Still only 25 years old, blessed with plenty of boxing skill and a mouth that sometimes continues on when it shouldn't, it's easy to see why Broner is a prized commodity in Al Haymon's stable. At the moment though, it would be hard to argue against the notion that Broner is the spokesman for protected fighters. Truthfully, it's tough to imagine Broner getting any of these three fighters to take his open June 20th slot.
The risks on his resume are calculated just enough to ensure that the probability of Broner coming out on top, coupled with the name recognition of the vanquished, are just sufficient enough to warrant keeping "The Problem" in the national discussion. Maidana proved emphatically that his maturity had not caught up to his talent, and nothing we've seen since has changed that opinion. Until Broner is truly tested in the ring on a consistent basis, he will continue to be an inconsistent fighter with worlds of talent, and his own biggest fan.