In rewatching Elia Kazan's 1954 classic, On the Waterfront, I was reminded that three of Joe Louis' so-called bums — Tony Galento, Abe Simon, and Tami Mauriello (respectively, Truck, Barney, and Tullio in the film) — constituted Johnny Friendly's muscle.  Friendly, portrayed by Lee J. Cobb, was the gangster in charge of the docks and Terry Malloy's (Marlon Brando's) nemesis.  But while Galento, Simon, and Mauriello may have been third-tier actors, they sure as hell weren't bums.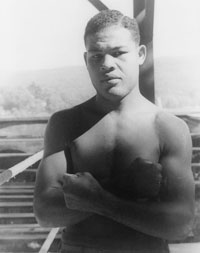 From early 1939 to early 1942, as well as following his discharge from the Army, Louis took on in rapid succession the best the heavyweight division had to offer. While none of the opponents proved a match for the one-of-a-kind Brown Bomber, and henceforth became known as his Bum of the Month Club, they can hardly be considered two-bit club fighters — they were rivet-tough and pros through and through.
Truck
'Two Ton' Tony Galento (80-26-5, 57 KOs) got his moniker not thanks to his barrel physique but because of one of his jobs — he was an iceman who occasionally made deliveries on his way to a fight.  Arriving late for a bout, his cornerman gave him hell.  Said Galento:  "Take it easy, I had two tons of ice to deliver on my way here."  The rest, as they say, is history.
Coming off 11 consecutive wins (all by either KO or TKO), Galento faced Louis at Yankee Stadium on June 28, 1939.  Ever the wild-swinging brawler, Two Ton Tony promised to "moida da bum".  And he came close — too close for comfort for the Bomber.
In the third round, Galento lifted Louis off his feet and sent him to the canvas with a left hook.  Galento, as writer Joseph Monninger puts it:  "stared at the fallen Louis, and felt what it would be like to be Heavyweight Champion of the World."  But it was not to be.
The champ took control of the remainder of the round and used the fourth to chastise the game fat man for his gross impertinence.  Landing combinations (perhaps as many as 28 punches to Galento's bullet head in the first minute of the round), Louis followed up with a right to the chin…a left…a right…and again a right.  Galento genuflected and the referee said to the challenger's cornermen:  "Come up and get him."
Barney
One of relatively few Jewish heavyweights, Abe Simon (36-10-1, 25 KOs) was nicknamed Ape because, well, he was so damned big.  He was also pretty good.  He won his first 13 fights, 11 by either KO or TKO.  And he knocked out future world champ Jersey Joe Walcott in the sixth round of their 1940 bout.
Simon was doubly blessed, twice entering the ring against the most formidable heavyweight champ of his (or any) time.  He first took on Louis on March 21, 1941 at Detroit's Olympia Stadium.  He gave the fans their money's worth, not getting TKO'd till the 13th.
Their second match, and Simon's last professional bout, took place on March 27, 1942 at New York's Madison Square Garden, where Simon was TKO'd in the sixth.  In the first fight, Simon had shook Louis up a few times, but here, besides winning the fourth round of the rematch, was knocked down throughout most of the fight until the ref stopped it in the sixth.
Tullio
Tami Mauriello (82-13-1, 60 KOs) won 12 fights in a row, 11 by KO or TKO, prior to his match with Louis.  Though he may have been the most impressive of Johnny Friendly's thugs, what with his huge ham-like head, he only lasted one round against the Bomber.
Still, prior to the KO, which took place at Yankee Stadium on September 18, 1946, Mauriello hit Louis with a tremendous right that knocked him across the ring and into the ropes.  Louis said his fight against the Bronx Barkeep was the last of his great ones.  It was his sixth, and final, victory by first-round knockout since taking the championship from James Braddock in 1937.
So, the next time you watch On the Waterfront, keep a weather eye out for Truck, Barney, and Tullio.  They weren't actors or thugs.  And they certainly weren't bums.  They couldn't have been — they faced Joe Louis.