In pure throwback style, undefeated middleweight prospect, Tureano Johnson (13-0, 10 KOs), recorded two knockouts in four days when he traveled to the Dominican Republic and defeated Jonalis Reyes on September 29th, followed by a third round stoppage of Jose Morla on October 2nd.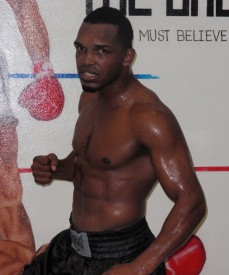 Promoted by Gary Shaw Productions, Johnson who hails from the Bahamas is on the fast track up the middleweight rankings.  Known for having power in both hands, Johnson seeks a meaningful fight next time out.
"Right now I'm feeling really strong and all my punches are accurate," said Johnson. "I'm going to continue to work hard in the gym and see what the big boss Gary Shaw has lined up for me.  I know GSP is working hard to get me right back in the ring.  I feel I'm ready to step up the competition."
"Tureano is an incredible fighter with a great work ethic," Shaw said. "That's all you can ask for when you sign a blue-chip prospect like Johnson.  The fact the he went to the Dominican Republic and won two fights in four days by knockout lets me know I have a great fighter on my team.  I'm working hard to get him on a bigger stage next time he steps in the ring."
In the amateurs, Johnson represented the Bahamas in the 2008 Olympic Games in Beijing, China, and is considered the best fighter to ever come out of his native land.
Comments
comments