Tyson Fury's next opponent in a ring has been announced. The bout takes place in Saudi Arabia, but it's not against who you might think, and it's certainly not in a sport we are accustomed to seeing "The Gypsy King" in.
Fury has found himself employed by the Sports Entertainment giant, WWE, and, as a result, has a reported $15 million dollar contract with the company to take part initially against one of the organisation's big men in Braun Strowman. It's a move that few, if any, saw coming.
Fury was in Los Angeles two weeks ago, not to promote an eagerly anticipated future rematch with Deontay Wilder, but to watch the stars of WWE with his family. Little did many know that Fury was merely part of the act, as one of the WWE's Heavyweight attractions, Braun Strowman, threw his opponent on the night, Dolph Ziggler, hurtling towards the Morecambe man. Fury took exception to this, and a feud was born.
The Lineal Heavyweight Champion then appeared days later on the brand's Monday Night Raw show, where he continued his spat with "The Monster Among Men" and he then viciously punched security guards in order to get to Strowman, sparking a huge brawl.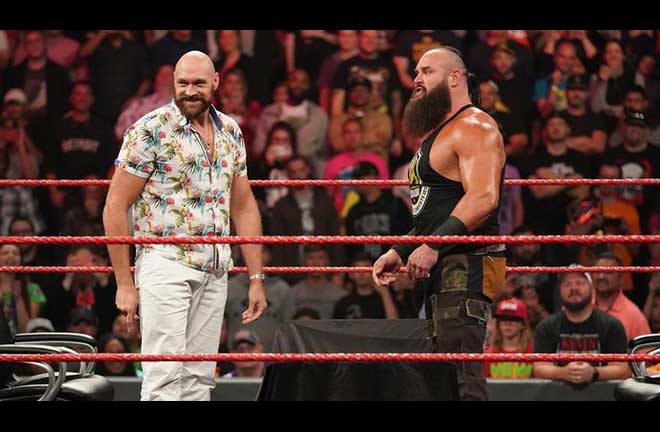 All of this has led to the pair now facing off against each other in a pay per view entitled "Crown Jewel" which takes place on the 31st of October in Riyadh, Saudi Arabia, in a contest that will capture the worlds media's imagination. The contest was announced in Las Vegas last week. The Crown Jewel event usually brings out former big names in the sport, such as The Undertaker, Goldberg, and Shawn Michaels to name a few, as well as current household names. The show will also see Brock Lesnar and Cain Velasquez renew acquaintances, but this time under wrestling rules rather than MMA ones.
Of course the Fury v Strowman rivalry is an act and part of the show (sorry kids!) but this opportunity with WWE has given Fury chance at huge exposure, and a huge payday from WWE to go with it.
On the face of it, it's a PR masterstroke by Team Fury. With Tyson convalescing after needed 40 stitches after his tougher than expected points win against Otto Wallin last month, and also having to bide his time for the Wilder rematch, this is an ideal chance to stay relevant, and make a tidy sum of money too.
One would imagine Fury wouldn't have too much work to do in his match with Strowman in the Middle East, and it's more likely that there will be a lot of posturing and playing, with Fury not an active wrestler.