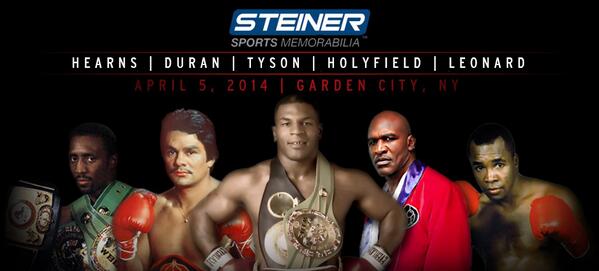 Boxing legends "Iron" Mike Tyson, Evander Holyfield, "Sugar" Ray Leonard, Roberto Duran and Thomas "Hitman" Hearns – all who engaged in epic battles and storied rematches – will be back in main event status at the Steiner Sports Store at Roosevelt Field Mall (630 Old Country Road) in Garden City, Long Island sharing classic sweet science memories on Saturday afternoon, April 5.
The "Classic Quintet" will all be available to sign autographs, pose for photographs, and to meet & greet fans at the designated times below. Tickets, starting at $49, as well as VIP packages and memorabilia are all available. For tickets and more information call the Steiner Store at 516-739-0580 or 800-242-7139.
Holyfield and Tyson will renew their class, late nineties heavyweight rivalry from 12:00 noon to 1:30 PM, and will be available for photo opportunities and to sign gloves, trunks and other collectibles. The duo engaged in a pair of epics at the MGM Grand in Las Vegas. In the first on November 9, 1996 Holyfield outmuscled Tyson to score one of the most monumental upsets in boxing history. Holyfield became the first heavyweight since Muhammad Ali to regain the heavyweight title twice. The rematch was one of boxing's most bizarre encounters on June 28, 1997, and saw Tyson bite off a piece of Holyfield's ear to be disqualified by referee Mills Lane.
Like Holyfield and Tyson, Sugar Ray Leonard (11:30 AM to 1:00 PM) and Roberto Duran (1:30-3:00 PM) battled in one of the most famous championship fights in boxing history. After Duran took the title from Leonard in a unanimous decision on June 20, 1980 in Montreal, a rematch was inevitable. Just five months later, on November 25 in New Orleans, Duran said "No Mas" and Leonard regained the belt. It gained its famous moniker at the end of the eighth round when Durán turned away from Leonard, towards the referee and quit by saying "No más." To this day, Duran says that stomach cramps. Leonard was the winner by a technical knockout at 2:44 of Round 8, regaining the WBC Welterweight Championship.
Nine years later, Leonard again beat Duran in their third match up by unanimous decision on December 12, 1989, in a fight that didn't have nearly the hoopla of the first two.
Leonard and Thomas "Hitman" Hearns (1:30-3:00 PM) likewise had classic encounters. They fought twice, once in 1981 and again in 1989, both are considered to be epics, both at Caesars Palace in Las Vegas. In their first encounter on September 16, 1981, for the undisputed Welterweight championship, Leonard beat Hearns by TKO at 1:45 in the 14th round when the referee stopped the fight.
After almost eight years, the Leonard-Hearns rematch finally happened. It was promoted as "The War". Leonard (35-1 with 25 KOs) and Hearns (46-3 with 38 KOs) met on June 12, 1989 at Caesar's Palace in a scheduled twelve-rounder for the WBC & WBO super-middleweight titles. Though Hearns had Leonard on the canvas twice, the judges scored the fight a draw, with both boxers retaining their respective titles. The decision was soundly booed, as most felt that Hearns had won.
Hearns and Duran fought only once for the WBO Super Welterweight championship. That was a dominating performance by the Hitman, who dropped Duran twice in the first round. After nailing Duran with a devastating right to the jaw in the second round, Hearns stepped back and Duran fell face first to the canvas. The fight was over.
Comments
comments