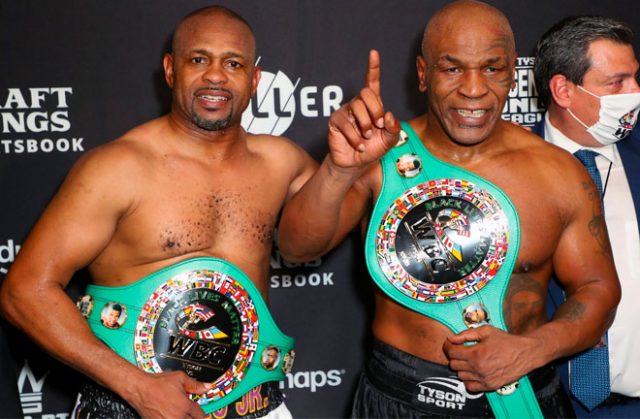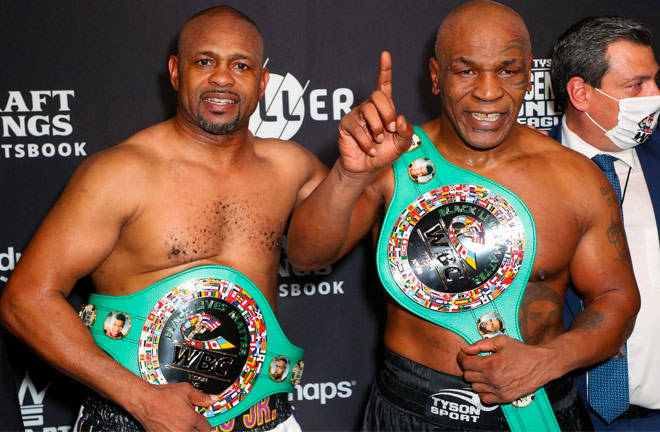 Mike Tyson and Roy Jones Jr battled to an unofficial draw in their bizarre Heavyweight exhibition match at Staples Centre in Los Angeles. Their meeting was over eight, two minute rounds and with each man wearing 12 ounce gloves.
The contest was barely believable in itself, but 54 year old Tyson and 51 year old Jones finally got together in a fight that had come at least over 15 years too late. For a fleeting moment at the opening bell, we were transported back 20 years as Tyson aimed leaping jabs and power punches at Jones, while Jones used his footwork to dance out of range. Unfortunately, that was as good as it got because the fight pattern pretty much continued for the whole fight. Tyson would try to wing punches in and Jones would elect to tie up and hold every time, occasionally showing his own ambition with a few fleeting punches. Both men were tired early on, but battled for round after round, with few clear punches finding the mark. Jones did finally loosen his shackles in the seventh when he opened up with a flurry, but that was as good as it got as the fight came to a close.
Three former WBC champions were in charge of the unofficial scoring, and it looked as though Tyson had done enough to win, but inevitably, the contest was scored a draw. Christy Martin scored Tyson a 79-73 winner which was in line with what happened, but Vinny Pazienza tallied 80-76 for Jones. Chad Dawson's 76-76 card ensured that the spoils were shared.
The pair were satisfied with their efforts, and it certainly looked like they would be open to doing it all again.
Badou Jack made a welcome return to action, and the former two weight world champion won every round of eight in his Light Heavyweight encounter with Blake McKernan. All three judges returned 80-72 verdicts in favour of the Las Vegas based Swede.
🆕 "I'M GOING TO TRY & CRUSH MY OPPONENT OF COURSE!"

🥊 With under a week to go @BadouJack reveals what he plans to do to his opponent and then can focus on a @jeanpascalchamp rematch!

▶️ https://t.co/XH9fUjf9eg#Boxing #TysonJones pic.twitter.com/jvxBSDZRzN

— Pro Boxing Fans (@ProBoxingFans) November 22, 2020
Jake Paul wiped out Nate Robinson in two rounds, dropping the former NBA star three times en route to a dominant victory. A shot that caught Robinson on the back of the head dropped him in the opener, and a big overhand right felled him again in round two. The same shot landed as Robinson tried to launch one last attack, but he was left face first and unconscious as Paul scored the knockout win. He then proceeded to call out Conor McGregor in his post match interview.
Goodness gracious, Jake Paul knocks out Nate Robinson! #TysonJones pic.twitter.com/jAls46cQPt

— Italo Santana (@BulletClubIta) November 29, 2020
Jamaine Ortiz took care of late notice substitute, Sulaiman Sagawa at Lightweight, as he scored a seventh round stoppage. The Worcester, Massachusetts native landed with a hard body shot which dropped Sagawa, and a follow up attack on the resumption foced an end to the action.
At Featherweight, Edwin Vazquez remained unbeaten, as he took an eight round split decision win against Irvin Gonzalez. The Heavyweight attraction went the way of Joe Cusumano, as he knocked out Gregory Corbin in six rounds.