10 Year Anniversary of Mike Tyson vs. Lennox Lewis; Manny Pacquiao Appeared on Undercard
Ten years ago on this day, June 8, 2002, Mike Tyson met Lennox Lewis in their hugely anticipated heavyweight showdown in Memphis, Tennessee. Little did we know at the time that Lewis would only fight once more after that, and that his thorough thrashing of Tyson would mark the official end of Iron Mike's relevance as a fighter (OK, well some people could have told you that much). But also relevant as we look back on Tyson vs. Lewis on its 10 year anniversary, is that a certain would be 8-division world champion was fighting on the undercard, Manny Pacquiao.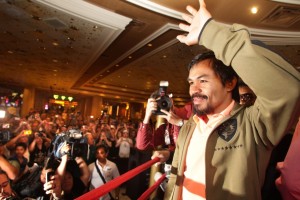 On June 8, 2002 in Memphis, Pacquiao was fighting for just the third time in the United States. He was defending his IBF super bantamweight title against Jorge Eliecer Julio, and won via 2nd round TKO. He captured the belt against Lehlo Ledwaba about a year earlier, and in between had fought to a technical draw against Agapito Sanchez in an attempt to unify his belt with Sanchez's WBO strap.
He was still nearly a year and a half away from his huge breakout win against Marco Antonio Barrera, and about two years away from his epic first fight against Juan Manuel Marquez. At that time, Pacquiao was merely undercard fodder for Lewis vs. Tyson.
Tomorrow, on June 9, 2012, Pacquiao is of course fighting at welterweight, taking on undefeated challenger Timothy Bradley. All these years and weight classes later, and he's the biggest superstar in the sport, and one of the most famous faces across the globe.
Tyson continued to deteriorate and eventually became a caricature of himself, more famous today for cameo appearances in movies and facial tattoos. The heavyweight division still hasn't recovered from Lewis's departure and the void that left at the top of the sport. And Pacquiao went from hardly known undercard afterthought to one of the best and most well known fighters in history. A lot can change in a decade.