Magnificent Seven Fight Card Preview & Predictions
The British domestic scene is not just doing well, it's truly back in top form and on September 18th the 'Magnificent Seven show', live from Birmingham, will serve as proof of the wealth of talent Britain currently possesses. Here are fight previews and predictions for the entire card which is packed with big names including Nathan Cleverly vs. Karo Murat, Kell Brook vs. Michael Jennings and much, much more.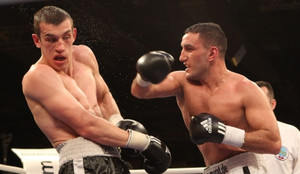 WBO Light-Heavyweight title eliminator: Nathan Cleverly (19-0 9 KO) versus Karo Murat (22-0 13 KO)
A big worry is that Nathan Cleverly, who this summer graduated from Cardiff University with a BA Honors Degree in Mathematics, has progressed too quickly. The Welshman burst onto the scene aged 18 and racked up an impressive record. Now aged 23 he has won the British, European and Commonwealth light-heavyweight titles and is too good for the domestic division. So in just his 20th pro fight Cleverly has a world title eliminator and faces his toughest test in Karo Murat.
Born in Iraq, Murat's early life was hard. At age 12 his family fled Saddam Hussein's rule to settle in Germany. Beginning his career in 2006 at Super-Middleweight, within two years Murat was crowned European champion.  This will be his first fight at Light-Heavy and a real examination of his credentials. If Cleverly, the taller man, uses his jab effectively and keeps his hard hitting opponent at bay, softening him up, Murat could be there for the taking. Murat, despite having all the basics down, lacks the speed needed to beat Cleverly who I believe will be the busier fighter and win on points or by late stoppage.
Vacant European Middleweight title: Matthew Macklin (26-2 18 KO) versus Shalva Jomardashvili (27-2-1 19 KO)
Birmingham's home town hero Matthew Macklin may not be fighting his scheduled opponent and domestic rival Darren Barker, but has got an intriguing bout against Georgian Shalva Jomardashvili instead. Macklin's career could have spiraled downward after a disappointing defeat in 2003 in his 10th pro fight. Another, more devastating, loss came 3 years later, a brutal KO at the hands of Jamie Moore in a British title bout.  Yet a move up to middleweight, a new trainer in Freddie Roach, and adding fresh skills to the aggression he already possessed, has seen Macklin stay undefeated since 2006. He now boxes with nimble footwork and intelligence and can always rely on his hard, accurate punches.
2009 was a great year for Macklin. He excelled against domestic rival Wayne Elcock and absolutely flattened Amin Asikainen in 1 round. Jomardashvili has never been knocked out and could prove a tough test. If Macklin rocks him early and then utilizes his newly found boxing brain to full effect he could really hurt the Georgian and be the first to stop him. After this, there are rumors of big name fights in America, but the bout British fans want first is Macklin – Barker.
British Welterweight title: Kell Brook (21-0 14KO) versus Michael Jennings (36-2 17 KO)
Out of 100 registered British welterweights Brook and Jennings are ranked 1 and 2 respectively. Brook is trained by Dominic Ingle, son of revered coach Brendan Ingle. The Ingle's gym in Sheffield produced the unconventional talent of former world champion 'Prince' Naseem Hamed and Brook is built out of the same mould. He's cocky, flashy, speedy and eccentric, can box orthodox or southpaw and utilizes fantastic movement and footwork to trap opponents.
He is however fairly immature in his defense. Brook keeps his hands low and relies on his speed to get out of trouble. Despite this, his chin has never been tested and he's never boxed more than 7 rounds. Jennings is not however expected to pressure him. Quite a defensive fighter, Jennings will stay on his toes, keep his distance and try to take Brook somewhere he's never been before – the championship rounds. A 2009 defeat to Miguel Cotto was the biggest night of Jennings career and although badly beaten he did prove he had heart as a fired up Cotto took five rounds to dispense with him. Heart won't be enough however and Brook should win this. If he shows he's improved his defense, then surely big fights in the talented welterweight division are to come.
British & Commonwealth Heavyweight title : Derek Chisora (13-0 8 KO) versus Sam Sexton (13-1 6 KO)
Expect fireworks as Britain's best two heavyweights, both young and ambitious, meet for the second time. 'Del Boy' Chisora won the first encounter on points in only his 4th pro fight. In his last outing Chisora took just 2 rounds to win the British title from Danny Williams. He does however rely far too much on hooks and is erratic. In 2009 he was suspended from boxing for four months after biting opponent Paul Butlin. Chisora may look to use his aggressiveness against Sexton and come out all guns blazing. Yet this could play right into Sexton's hands.
Commonwealth champion Sexton recently produced two hard fought wins over Belfast bruiser Martin Rogan in the Irishman's home town. In the first Rogan fight, Sexton was badly hurt but proved he has survival skills, a valuable trait for a heavyweight. He can take a punch and has decent movement for a big man. He may not have the most power out of the two but has more stamina and is the better suited to grind out twelve hard rounds. Should Sexton survive the early onslaught and take Chisora the distance it will be his arm raised at the end.
European Cruiserweight title: Enzo Maccarinelli (32-4 25 KO) versus Alexander Frenkel (22-0 17 KO)
Former WBO world cruiserweight champion Enzo Maccarinelli defends his European title against unbeaten German, Alexander Frenkel. Maccarinelli almost retired following a series of crushing defeats. First in 2008, in a cruiserweight unification bout he was spectacularly TKO'd by David Haye in 2 rounds. Losing two of his next three, both inside the distance, seemed to signal the end.
Showing real mental strength, Maccarinelli resisted retirement and returned with a bang, winning his last three fights all by first round stoppages. If Enzo, who has the height advantage and is the better boxer, can establish his rhythm early on he should win. Frenkel though is dangerous and carries KO power. Also, Maccarinelli's problems are his lack of concentration and survival skills, both of which he will need. In the biggest night of his life, Frenkel may just bring the fight of his life and the bout could be a real cracker.
Vacant European Light-Middleweight title: Matthew Hall (23-2 16 KO) versus Lukas Konecny (44-3 21 KO)
Ryan Rhodes pulled out of this fight and lost his European title for doing so, which has given a wonderful opportunity to Matthew Hall. A TKO loss, to Anthony Small in front of his home fans in Manchester last year, must have been hard to take, but Hall is a warrior and has battled back into contention. Known as a fighter who keeps charging forward, Hall's rudimentary skills probably won't be enough to outclass Lukas Konecny who also likes to meet opponents head on. The Czech fighter held this belt two years ago and with just 3 defeats in a 47 fight career is surely too skilled and ring savvy for Hall. Konecny's last two bouts however were at middleweight and he may be struggling with the 154lbs limit. My heart says Hall but my head says Konecny.
WBA intercontinental Super-Middleweight: James DeGale (7-0 5 KO) versus Carl Dilks (14-2 5 KO)
After winning gold at the Beijing Olympics, James 'Chunky' DeGale made many wild claims and predictions. Obviously DeGale believes in himself, but a lot of his statements and overhyping are not particularly appealing to British fans. His failure to knockout Georgian punch-bag Vepkhia Tchilaia in his pro debut was greeted with boos from the crowd and many are yet to be convinced.
DeGale carries KO power in both hands and the switch-hitter can be devastating. Yet in Carl 'Dynamite' Dilks he faces the toughest test of his short career. With only two defeats in 16 fights, Dilks can rumble, but has limited skills. Yet one thing is for certain – when DeGale hits him, Dilks will hit back. Despite this, if 'Chunky' stays focused and concentrates on his game, another victory inside the distance should occur and it would be nice to see him impress the fans.