Star Boxing has signed unbeaten Australian sensation Zac Dunn to an exclusive promotional contract, it was announced by Joe DeGuardia. Dunn will return on Friday night, October 24, at The Paramount in Huntington, New York, in the next installment of Star Boxing's Rockin' Fights series.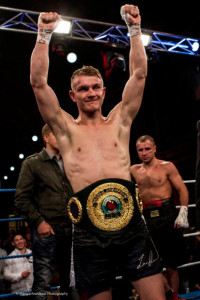 Ranked #10 by the WBC, the wonder from Down Under has reeled off 18 straight professional victories without defeat, including 15 by way of knockout. Fighting exclusively in Australia as a professional, Dunn will be making his American debut at The Paramount.
"Zac Dunn is it very exciting fighter," said DeGuardia. "I am pleased we have signed him to a long-term promotional deal, and I know the fans at the Paramount will love him. We believe he will be a matinee idol here, just as he is in Australia."
During a storied amateur career, Dunn scored 152 victories in 170 fights, showcasing his talents all over the world. The battle-tested Australian has fought in in Baku, Azerbaijan (bronze at the World Cadets Championship 2007), Guadalajara, Mexico (quarterfinalist in the World Youth Championship as Australian captain), Noginsk, Russia (Silver medallist at Junior Memorial), and Anapa, Russia (Bronze medallist twice at Nikolay Pavlyukov Memorial 2008 and 2009), and Guantanamo, Cuba (silver medallist at the international tournament Giraldo Cordova Cardin 2010).