Deion Jumah (3-0, 1 KO) returns against Josef Krivka (6-8, 6 KOs) in a six-round light heavyweight contest on December 6 at the EWE Arena in Oldenburg, Germany.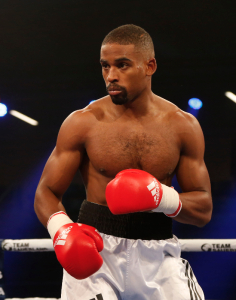 ''I'm really looking forward to getting back in the ring,'' said Jumah. ''It's been a long road, but now I'm ready to get back on track and back where I belong.''
In Oldenburg, Jumah will be fighting at the light heavyweight limit for the first time, having made the move down from cruiserweight.
''It was the right decision for me,'' said the 25 year-old southpaw. ''I have no problems making the weight. I was strong at cruiserweight, but at light heavy, I will be even stronger.''
Since his last fight in October 2013, Jumah has kept busy, training under the guidance of renowned British coach Adam Booth.
''Adam has been great,'' said the former two-time ABA Champion. ''I've improved so much just being around him and the other Boxing Booth fighter. There is so much I can learn from all of them. Now, it's about putting these things into practice.
''I'm here for the long haul. I want to be the best. But at the moment, I'm only focusing on the present, and that's Krivka on December 6. I want to get in there, look good, and show everyone that I'm back and I mean business!''
Said promoter Nisse Sauerland: "It's been a tough 12 months for Deion, with injury and illness keeping him out of the ring. He has showed great strength of character to stay fit and focused on his boxing. He is in good hands with Adam. We're all looking forward to seeing him back in action on December 6 in Oldenburg."