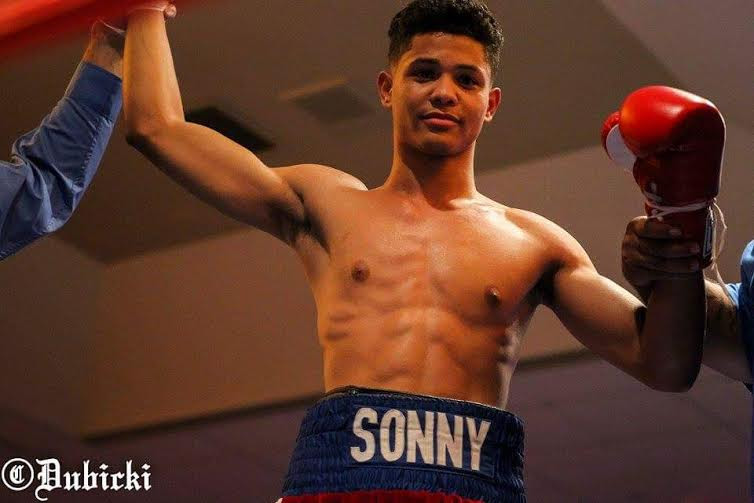 On Saturday night, June 20 at the Oracle Arena in Oakland, undefeated Lightweight prospect, Sonny "Pretty Boy" Fredrickson (8-0, 5 KO's) will make his national television debut when he competes in a 6-round bout that will be part of the nationally televised card featuring Andre Ward taking on Paul Smith on BET.
Sonny Fredrickson stands 6'2″ with power in both hands and the good looks of a GQ model. The "Baby Faced Assassin" is unlike any other Lightweight in the world.
Fredrckson of Toledo, Ohio had a stellar amateur career where he compiled a record of 120-8 with 60 knockouts. He won many accolades such as being a 2013 National PAL Bronze medalist, 2013 National Golden Gloves Final Eight & he was a five-time Toledo Golden Gloves champion.
As an amateur, Sonny also holds a 1st round stoppage win over 152 National champion Jamontay Clark.
"I am just finishing up camp now and everything went well,"said the 20 year-old Fredrickson of his preparation for his June 20 bout. "I have been doing 8-round sessions. I have been doing a lot of running, sprints and yoga."
Fredrickson, who turned professional in 2014 won his first four bouts with first round stoppages, has an aggressive fan-friendly style and features a killer left hook. He is a good looking kid who models his style after his idol, Oscar De La Hoya.
When told of his first national television exposure, Fredrickson was very excited.
"This is short notice but I am ready to put on a show and showcase my talent in front of the world."
The 20 year-old is in no rush to get to the top and he knows that with the right fights he will become champion.
"I hope to get in five fights this year. I will continue to move up on the prospect list and by the end of the year, I will be ready to step up."
This fight will be the second fight for Fredrickson since signing with Roc Nation Sports, and he believes that his alliance with his new promoter will benefit him both in and out of the ring.
"I feel like Roc Nation will be huge. It will grow into a big promotion and will take over boxing. They can do things for us boxers that no other company can do and I look forward to exploring all of those opportunities."
Fredrickson is managed by boxing attorney Rick Torres of Victory Sports Entertainment.