DiBella Entertainment's unbeaten junior welterweight prospect Regis "Rougarou" Prograis returns to action tonight when he takes on Jeff Humphries at Evangeline Downs Casino, in Opelousas, LA, in a six-round contest.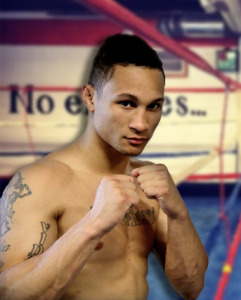 The dynamic southpaw Prograis, 11-0 (9 KOs), has impressed and excited audiences with every outing, knocking out all but two of his opponents thus far in five rounds or less with his heavy hands and aggressive come-forward style. A native of New Orleans, Prograis was forced to abandon his home in 2005 in the wake of Hurricane Katrina. Moving all around Texas, Prograis was enrolled in six different high schools before graduating and finally settling in Houston. Looking for a way to take out his frustration, Prograis embarked on an amateur boxing campaign that culminated with a 62-8 record over a four-year span. Given his relentless approach inside the ropes, Prograis' father gave him the nickname "Rougarou", which, in New Orleans folklore, is a mythical half-man/half-werewolf creature.
With many competitors wary of his power, Prograis often had to compete well above his natural weight, at 152 pounds. Following a trip to the 2011 USA Olympic Trials, Prograis decided that his style was better suited for the professional ranks. Training out of Main Street Gym in Houston under the tutelage of Bobby Benton, Prograis turned pro in April 2012, in the junior welterweight division. He has remained active in 2014, with tonight's contest against Humphries, 2-0 (1 KO), from Ukiah, CA, being his fifth ring encounter this year.
"This is a great opportunity for Prograis to fight in Louisiana, about an hour from where he was born," said Jarvis Johns, Prograis' manager. "Now that we've signed with DiBella Entertainment, this might be his last fight in this region for a while since DBE will want to showcase Prograis' talents all over the country. He likes to go for the knockout, but he can box too. I know that, with DBE, Prograis will become a future world champion."
"I'm proud to be a part of the DiBella Entertainment family," said Prograis. "I always give my all. This is an entertainment business and I always want to give the fans their money's worth."
"Regis Prograis is a tremendous and colorful prospect with devastating power," said Lou DiBella, President of DiBella Entertainment. "I'm confident that he will continue to build a large fan base as he climbs up the junior welterweight rankings."