Promoter Sampson Lewkowicz of Sampson Boxing proudly announces the signing of boxing 'wonder kid' David "El Bandera Roja" Benavidez to a promotional contract. Benavidez, already 10-0, 9 KOs as a super-middleweight professional, hails from Phoenix and is the younger brother of undefeated Interim WBA World Super Lightweight Champion Jose Benavidez Jr.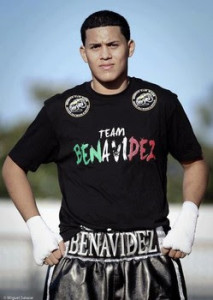 Considered a boxing prodigy by many, Benavidez has been trained since age two by his father Jose Benavidez Sr. He turned professional at 16, but was forced to ply his trade in Mexico until age 18, when he was legally allowed to fight in the United States. The ultra-talented youngster has already sparred with many of the best fighters in the world including Kelly Pavlik, Gennady Golovkin and Nobuhiro Ishida to name a few He has also trained at the Wild Card Gym with Freddy Roach.
"I feel really blessed," said Benavidez of the promotional deal. "It's a great opportunity for me and great for my career. I am excited to step up to this big stage and show everybody how hungry I am and what I'm about. I want to show my skill level to the boxing world."
Benavidez caught the eye of Lewkowicz while sparring in the Virgin Islands with Sampson Boxing fighter Julius Jackson.
"Like any other boxer my goal is to become champion, but I'm also looking forward to coming up the ranks and showing everyone who I am. But I'm only 18, so we're taking our time. When Sampson says it's time to step up, then I will."
The young fighter says his relationship with his father has been key to his success.
"It's a great father/son relationship, he's like my best friend. We don't always agree on everything but he's the one who taught me everything I know, so I am grateful for everything he has given me."
"I'm really happy about this deal. Sampson works with the best people in boxing," said Jose Benavidez Sr. "We saw what he did with Maravilla Martinez and he's been around many years doing a great job. We're happy to be with him."
Benavidez Sr. says his son is a boxer with an occasional tendency to brawl. "He moves his head a lot and throws good combinations. He's very relaxed and thinks a lot in the ring. He also has great killer instinct."
Benavidez's manager David Garcia, who also handles his world champion brother, says the boxing world can expect big things from this new pairing of promoter and up-and-coming fighter. "I'm proud that David has joined Sampson's promotional stable. Sampson has guided many fighters to the top. With hard work and Sampson's guidance, David will be in some of the most exciting fights of the next few years."
Garcia also explains why the young man turned pro at such an early age.
"He had developed so much physically by 16. He was already 6′ 2″ and had so many skills. He was already sparring with world champs. The amateur level didn't offer him any further opportunity to develop. So he took the natural course of turning pro."
Promoter Lewkowicz is the one who gave Benavidez his unique fight moniker of El Bandera Roja/Red Flag. "I gave him that name because he is a red flag to all the super middleweights in the world to watch out. They are all now in danger."
Lewkowicz, renowned for his eye for young talent, says that Benavidez has everything he looks for in a prospect.
"I am very happy David chose to work with me. He is a future star in boxing. It's his destiny. His brother is a champion and so will he be. He is the real thing and I am proud to be the one to guide him to where he belongs at the top of boxing."