Undefeated junior lightweight and Bronx native Manny Gonzalez will challenge Chazz McDowell of Yonkers in a cross-town showdown for the New York State Junior Lightweight Championship next Saturday night, July 28th at "ROCKIN FIGHTS 4" at The Paramount in Huntington, New York.
Known for his all-action bouts, hot Puerto Rican prospect Gonzalez has compiled a record of 10-0-0 with seven knockouts since turning pro in December 2008.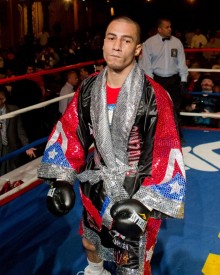 The 24-year-old former amateur standout is coming off a dominant victory over Jesus Bayron on February 10th at the Mohegan Sun Casino. Although cut under his right eye from an accidental head butt, the colorful and hard punching Gonzalez stormed to a unanimous decision impressing the huge crowd in attendance and ESPN Friday Night Fights viewers.
Said Joe DeGuardia, President of Star Boxing, "Manny has come along very nicely over his last few bouts and this bout against McDowell is a big step up for him but we truly believe one that he is ready for. He brings a terrific energy to the ring and fight fans at The Paramount are in for a real treat."
McDowell, sporting a record of 6-1-0 (1KO), was also a standout amateur, winning the 2007 New York Golden Gloves and the 2005 Junior Olympics.
Known for his slick boxing skills McDowell won a six round decision over Yuriel Ramos on May 12th in Poughkeepsie, New York.
Speaking in between training sessions, Gonzalez declared himself "more than ready" for this opportunity, "I've had great sparring the last couple of weeks with Jose Nieves and Braulio Santos. I know Chazz very well and he has more speed and is more of a mover so it's important that I use my power to slow him down."
Born and raised in the Bronx, Gonzalez is very proud of his heritage, "I'm 100% Puerto Rican and I'll have a lot of support at The Paramount. "
In the main event at "ROCKIN FIGHTS 4", "The Fighting Pride of Huntington, New York", undefeated junior welterweight prospect Chris Algieri, 14-0-0 (7KO's), will battle tough Texas veteran Raul Tovar, 10-5-1 (4KO's).