Undefeated Cuban heavyweight Glendy "The Guantanamo Giant" Hernandez (10-0, KOs) has issued a challenge to fight unbeaten Mexican-American Andy Ruiz, Jr. (18-0, 12 KOs).
"We want to fight Andy Ruiz to show that, not only do I have the talent to beat him by points," Hernandez said, "but that I also have power to knock him out."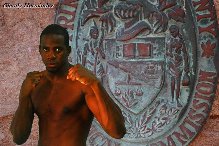 Hernandez, who has been trained the past year by coach German Caicedo at Caicedo's Sports Gyms in Miami, has kept training with confidence that he will soon have an opportunity at this stage of his career to showcase his technical and physical improvements.
"The best thing that ever happened to my career was coming to this gym to train the way we do now," Hernandez explained.  "The routines shown to me by my coach have resulted in excellent improvements, and confidence to challenge any opponent in my weight this class."
Hernández made his professional boxing debut in February of 2010, defeating Corey Winfield in four rounds by unanimous decision. Under Caicedo's direction, the Cuban fighter has won three in a row, all by stoppage, to raise his undefeated record to 10-0.
Acquinity Sports promoter Henry Rivalta and Caicedo believe so much in Hernandez that they want to make a fight with Ruiz. "We know that Andy Ruiz, Jr. is a powerful puncher with an impressive record," Rivalta commented. "However, Glendy also has power in both hands, and the intense training schedule he's working has improved his elasticity and movement. With all due respect to Ruiz, who is a great boxer, Glendy's improvement and overall boxing skills give us confidence in him to challenge Ruiz. This has all of the makings of an excellent fight between two good, fast-rising heavyweight prospects.
"We know that Ruiz, Jr. plans to fight in Macau, China, very soon. I want to let Team Ruiz know Glendy is willing to fight Ruiz, Jr. wherever they want, after or before that fight in China, if they choose. We have no problems with this matter; our boy is ready now to go to war next week if they are ready, even if we need to travel to China to fight him over there."
Comments
comments