Another title is on the line on February 25 at Porsche-Arena in Stuttgart, Germany, when regional hero Dominik Britsch (26-0, 9 K.O.) is trying to win the vacant EBU-EU middleweight title versus Roberto Santos (17-6-1, 9 K.O.) from Spain. "It's pretty cool to fight right on my doorstep as lots of fans are going to show up supporting me. I can't wait for it!" says the 24 year-old Neckarsulm-native.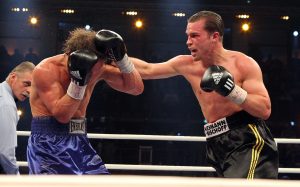 His promoter Sauerland Event was clearly aiming for such a homecoming. "Dominik is one of the fastest rising fixtures in German Boxing and we are pleased to present this fight in Stuttgart" states its CEO Chris Meyer with continuing, "Dominik has a bright future ahead of him as the EBU-EU belt can easily be a stepping stone to a European Championship or even a World Championship fight."
To get there, Britsch has to sweep Santos out of the way. Actually, the multiple national boxing champion would have had a fight in his native Spain 2 weeks ago, but as soon as he was asked to fight Britsch, he cancelled his then-upcoming bout and signed a deal for this challenge. Whereas the protégé of famed coach Ulli Wegner can count on a partisan crowd from around the Baden-Wuerttemberg region, Santos will have to count solely on his skills inside the squared circle. Nevertheless, the 30-year-old and his team around coach Jesus Antonio Labrador Felipe are coming with a lot of confidence to the German's backyard.
"Certainly, Britsch is a technically-sound boxer, but I see myself as the better fighter all-around and that's why I'm going to beat him," Santos indicated before the fight which is scheduled for 12 rounds. "I have watched some of his bouts on tape – he's pretty good at using some fast hands to pile up points but at the same time the guy often goes back into a passive mode which will clearly cost him when he steps inside the ring with me."
About the chance of winning the EBU-EU title, the man from Benidorm, Spain, delights "to win this belt would mean a lot to me as well as being a big step to compete for the European Championship."
However, local hero Dominik Britsch has other plans and wants to please his fans with another victory that night, "I am not underestimating Roberto Santos as he already won some titles in his professional career. He is really versatile in his style and also packs a good punch – we are going to give the people in attendance a fight, they will love to watch."
In addition, the young man from Neckarsulm already knows what should be next in case he beats Santos, "My dream is to be a world champion one day but it's hard to tell when I'm going to get the chance to fight for it. Maybe it will materialize as early as the end of this year."