Just yesterday, Greg Cohen, Founder and CEO of Greg Cohen Promotions, announced the formation of his new company.  Today, he is proud to announce his first new signing, Washington DC-based undefeated heavyweight Maurice "Freight Train" Byarm (11-0, 8 KOs) to a promotional contract.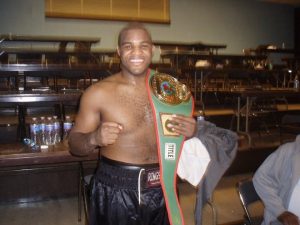 Crowd-pleasing Byarm is a Philadelphia native who prides himself on his work ethic and sledgehammer fists. Able to crack to both the head and body, Byarm has been generating buzz among East Coast boxing insiders almost since the day he turned pro in 2009.
The son of Lionel Byarm, who once fought Evander Holyfield, Byarm says he came to boxing after watching Vitali Klitschko fight Chris Byrd and proclaiming he could beat both of them.
"Maurice has the tools and the personality to become a major force in the heavyweight division. His style is reminiscent of a young Mike Tyson and with a little more seasoning, I expect Maurice to be a future Heavyweight Champion!" said Cohen. "Even though he has limited experience, it's plain to see how much he is improving with every fight and how badly he wants it."
Cohen says that while Byarm has a lot of work left to do, what impressed him most is the fighter's dedication. "He is a tireless worker and he makes adjustments in the ring like a seasoned fighter. That's because he's a machine in the gym, soaking up knowledge and pushing himself to go further every day."
While thus far in his career, the competition hasn't been as strong as it will someday be, Cohen says he can see something developing.
"It's not the fact that he's beaten these eleven opponents. He's supposed to do that. It's the way he beats them that has everyone who's seen him excited. He doubles them over with body shots. He dominates them and bends their will with his work rate and oftentimes, he knocks them out cold. The way he's steadily getting better, in the near future, it's going to become hard to picture many heavyweights in the world being able to stand up to that kind of controlled aggression, round after round."
Comments
comments