Vito Mielnicki's GH3 Promotions is proud to announce the signing of undefeated Light Heavyweight prospect Jerry "The King's Son" Odom to a promotional contract. Odom of Washington, D.C was a prized amateur where he competed in the 2012 Olympic trials, 2012 Golden Gloves champion and 2012 National PAL tournament runner-up.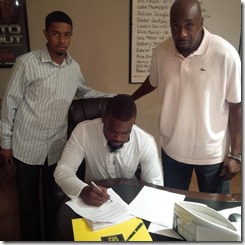 Since turning professional, Odom is 4-0 with all of his wins coming via first round knockout.
"I am very happy to sign with GH3," said Odom. "I am looking forward to getting my career on the move.  I am expecting the best to come."
Odom has completed one semester of collage at Full Sail University in Winter Park, Florida where he majored in Media Communications.
"I will continue to go to school so after boxing I have something to fall back on."
Said GH3 Promotions Vito Mielnicki "Jerry is a terrific prospect and at age 20 years old, he has shown tremendous power already and we expect to be a world champion."
Odom will make his debut under the GH3 Promotions Banner on September 13th at the Robert Treat Hotel in Newark, New Jersey.