Red-hot lightweight prospect Ghislain "Mani" Maduma (14-0, 9 KOs) headlines the sixth installment of EOTTM's (Eye of the Tiger Management) Fight Club Series on Friday night, September 6, at Hilton Casino Lac Leamy Casino Hotel in Gatineau, Quebec, Canada.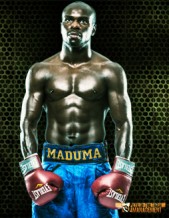 Maduma, who lives in Montreal, defends his World Boxing Council (WBC) Americas title against Mexican warrior Fermin De Los Santos (24-13-2, 16 KOs) in the 12-round main event also for the vacant North American Boxing Federation (NABF) 135-pound championship.
The 28-year-old Maduma is world rated at No. 10 by the International Boxing Federation (IBF), as well as No. 14 by the WBC. He had an impressive 61-17 amateur record, highlighted by his gold-medal performance at the 2003 Canada Games. His last fight was a solid win by 10-round decision over Saul Carreon (20-5-1) this past May 17 at Hilton Lac Leamy.
WBC No. 11-rated De Los Santos is the reigning WBC Caribbean Boxing Federation (CABOFE) lightweight champion. The battle-tested veteran, unbeaten in his last 15 fights (14-0-1, 9 KOs), has never been stopped as a professional.
"We strongly believe Ghislain is on his way to being the best lightweight boxer in the world, period," EOTTM president Camille Estephan said emphatically. "We are anxious to see him take on the biggest names in the division as fast as possible. Tough fights like this one with De Los Santos are what we want for 'Mani' in order for him to secure a top 5 world ranking. We're confident that he will have two title belts September 6th when he leaves the ring."
The stacked undercard will showcase two of the most exciting young fighters in Canada, super featherweight Baha Laham (12-0-1, 5 KOs) and light heavyweight Andy Gardiner (8-0. 4 KOs), fighting separate eight-round bouts. Super middleweight Schiller Hyppolite (7-1, 4 KOs) is also scheduled to fight in an eight-round match.
Also scheduled to fight on the undercard against opponents to be determined are lightweight Ibrahim "Fireman" Kamal (8-0, 6 KOs) and light middleweight Mian Hussain (6-0, 4 KOs) in six-rounders; lightweights Michael "L'Unique" Gadbois (9-0-1 (3 KOs) and Chris Plaitis (4-0), light heavyweight Pascal Villeneuve (2-0, 1 KO), heavyweight Zachary Bunce (1-0, 1 KO) and pro-debut cruiserweight Samer Barakat, all in four-round match-ups.
All fights and fighters are subject to change.