It is no secret that Mateusz Masternak (28-0, 21 KOs) is considered to be one of the hottest cruiserweight prospects in the business. He will now get the chance to further enhance his reputation and crown himself the Champion of Europe on December 15. However, it will not be Alexander Alekseev standing in the way of the 25-year-old Pole in Nuremberg. The EBU stripped the Russian of his championship due to vague medical records. Therefore, the man from Wroclaw, Poland will step into the ring with Juho Haapoja (18-2-1, 11 KOs) from Finland to fight it out for the vacant European Cruiserweight Title.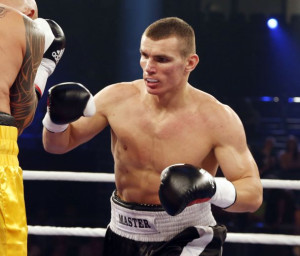 "We are happy to announce that we have added another title fight to our event in Nuremberg," said promoter Nisse Sauerland. "Unfortunately, Mateusz Masternak won't get the chance to take the belt of Alexander Alekseev as he does not hold it anymore. However, we found a good replacement in Juho Haapoja. As the current European Union Champion, he will make up for an attractive matchup against Masternak." This fight will also mark the first chance for "The Master" to win a championship under the promotional banner of Team Sauerland.
The prodigy of Andrzej Gmitruk cannot wait to make the best out of this title opportunity. "At the moment, I feel as if my career is on the fast lane. Before the last fight on September 15 my wife Daria gave birth to a baby boy. Then I was able to beat David Quinonero by TKO in Germany. Now I get the chance to win this well-respected title. Winning a title before the end of the year would be the icing on the cake."
Regarding former European Champion Alekseev, Masternak was not shy with an answer. "I was originally disappointed that Alekseev was not available. He seems to be a little confused as on the one hand, he is not fit to fight me but on the other hand, he is calling out the current World Champions. Maybe next year he will take up the challenge and enter the ring with me."
Asked about his ring-rival on December 15, Masternak said that he and Haapoja will make up for an exciting fight. "Our styles match up really well. He comes straightforward and can take a punch. I'm also not one to take a step back. People will be entertained and I am convinced, that in the end I will be the one standing tall."
The main event at the Arena Nürnberger Versicherung will see the first title defense of WBO Super Middleweight World Champion Arthur Abraham (35-3, 27 KOs) who takes on Mehdi Bouadla (26-4, 11 KOs) from France.