Bobby Hitz announced today that exciting super middle weight prospect Mike "Hollywood" Jimenez (11-0 8 KOs) of Chicago will square off against Gary, Indiana's Derrick "Superman" Findley (20-10-1, 13 KOs) in the eight round "IT'S TIME: The Battle of the Border" Main Event of "Fight Night at the Horseshoe" on Friday, September 13, at The Venue inside of Horseshoe Casino in Hammond, Indiana.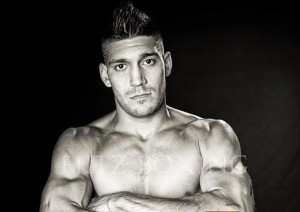 "Mike is risking it all by fighting Derrick and he is working hard to prove that he and his unbeaten record are the real deal" said Hitz. "Both a loss and a win can change the trajectory of his career. He is stepping up big time and Chicago's fight fans will benefit as a result."
Jimenez hopes to remain unbeaten against the very tough Findley, who is the only man to stop the highly regarded Andrzej Fonfara, who knocked out Gabriel Campillo in the ninth round this past Friday. In July of 2008 Findley stopped Fanfara with a second round TKO.
"I know Derrick and he is a super tough dude, who doesn't slow down. He brings it all night, he's never been stopped and he is beaten some quality boxers," said Jimenez. "I will be on BEASTMODE on September 13 and I will bringing the KRYPTONITE to "Superman." I've been killing it in the gym, my team is pushing me hard to make sure I am ready and I will be on my "A" game."
For his part Findley doesn't appear to be too concerned stepping in to the ring against an undefeated opponent:
"They go out here and the knock out a guy in some basketball shorts and some Reeboks and then go up to the club with their little Cubic Zirconia chains jumping around like they just beat Canelo. Everybody wants tomato cans, nobody wants to fight real fighters. Everybody wants to be undefeated, everybody wants to be 40 and 0."