Last Saturday Marcos Nader (16-0, 2 KOs) won his tune-up fight in convincing fashion. The Austrian came out on top against Damien Bertu from France with a clear unanimous points decision at the Stechert Arena in Bamberg, Germany. Along with the victory now come his first shot for a professional title. Nader challenges the current EU Champion Roberto Santos (18-6-2, 10 KOs) in front of his home crowd at the Multiversum Schwechat, Austria, close the airport of Vienna.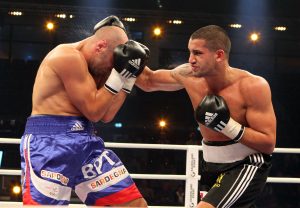 "I am very excited," said the 22-year-old. "Since turning pro I have only fought in Austria on a few occasions." But against Santos the support of the domestic fans could prove to be vital as the fight against Santos won't be an easy one. It seems as if the 30-year-old Spaniard is in the shape of his life.
After fighting out a draw against the German middleweight hope Dominik Britsch back in February, the "Tiger of Benidorm" went one step further on September 15 in Bamberg. Santos won the rematch against Britsch by TKO in round 8 and destroying all hopes of the German middleweight of becoming the EU Champion.
"I saw both fights," said Nader. "I paid close attention to the fight in  Stuttgart before last weekend's bout and I was present for the rematch last Saturday, when Santos won the belt."
The middleweight continues: "I am really looking forward to it. I know that Santos is a tough guy but now after beating Britsch he is in the eye of the public. The fans know that November 2 will be a great night of boxing."