Undefeated junior middleweight Patryk Szymanski (11-0, 6 KOs) knew it was his chance to shine Last February at the UIC Pavilion in Chicago and he did not disappoint.
So impressive was Szymanski, in stopping Michigan's Daniel Hicks in two brutal rounds, he's now being hailed by some pretty important people as the next great Polish boxer being showcased in Chicago. Having caught the eye of, and signed with, co-promoter Leon Margules of Florida-based Warriors Boxing, the 21-year-old has since left his native Poland and is now living and training at the Contenders Gym in Fort Lauderdale, working with reputable trainer Chico Rivas.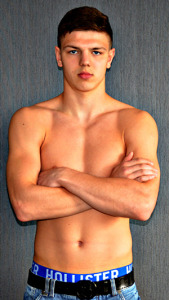 Szymanski will appear in a featured eight-round bout on Friday, December 12, 2014, at the UIC Pavilion when Warriors Boxing Promotions presents a 14-fight "Holiday Boxing Bash" in Chicago.
"Since I was a young boy, I have always wanted to be a boxer," said Szymanski. "This is realizing my dream, so of course it's a great thing! It all started with my co-promoter in the States, Mariusz Kolodziej from Global Boxing. He arranged for me to fight in Chicago. Leon (Margules from Warriors Boxing) saw me in February and he liked what he saw, so he signed me."
Szymanski, who had over 250 amateur fights and spent seven years on the Polish national team before turning professional, comes from a fighting family in his native Warsaw. His father, Grzegorz, was also a boxer and his first trainer.
"I'm very close with my family and they support me completely. Boxing was a really important part of my upbringing," continued Szymanski. "My father was a fighter, so he introduced me to boxing. He was my trainer also until we came to the moment when my dad decided he could do no more for me."
And so Szymanski is now living with and working hard for renowned trainer Chico Rivas.
Rivas has some high praise for his new pupil. "This kid is something special," said Rivas. "He's a very entertaining boxer/puncher, but he's also very strong technically. He's got some power too. He can get you out of there".
On a personal level, Rivas says Szymanski is fairly unique among fighters. "How many fighters are going to take their trainer out for dinner?" he asked. "Never before. They always want you to pay. This kid works hard in the gym every day and he's a nice kid. Very polite and well-mannered."
Szymanski says that while he misses his parents and friends back home, the chance to actually become the new face of Polish boxing in the United States and the world is too important. An opinion shared by the members of his circle.
"Their dreams are my dreams. I stay in steady contact with them because it's very important, especially for my father, to know what's going on with me. They all want this just as badly as I do."