Exciting Prizefighter Light Welterweights III champion Chris Jenkins is back in action on Saturday night, and the Welshman has promised to show even more of his skills. Jenkins was a late-replacement in the line-up at York Hall, Bethnal Green in July, winning every round of a night that ended in his knocking out Danny Connor in the second round of the final.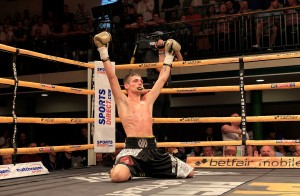 The 25 year old is aiming for a busy start to the season and kicks off Saturday night's action on the Red Button on Sky Sports 2 HD from 6pm in a six-round clash with Frenchman Laurent Ferra.
"Those who saw me on Prizefighter have only seen a little bit of my abilities," Jenkins told Sky Sports.
"I've got a real rock and roll style; I can box, I can fight, I can have a bit of a war if I have to although my corner wouldn't like it. I want to be British champion, I want to defend it three times and win it outright and obviously move on one step at a time.
"I was coming along nice and steady," said Jenkins. "This I had the phone call from my promoter for Prizefighter and I was like 'whoa, say that again'? Obviously he's been working on getting me on to other shows but when I was in I looked at what boys were in there, and some had good records and some you didn't know nothing of.
"I just trained hard and on the night I took it one fight at a time and on the night I showed I can box, I can fight and I had tunnel vision on the night for the £32,000 which I won."
"Now it's time to move on. I've got a nice sponsored car and I've had people take an interest in and out of the ring. It's been mad but it's calmed down a bit now and it's now all about looking forward to the next fight.
"You've got some good lads in front of me, [Darren] Hamilton's still British champion obviously and I have a little gander here and there at what's going on above me.
"The boys who are above me have had more fights but after winning Prizefighter there's been a boost for me in many ways. I'm happy where I am but I can't wait to get the chance to fight these boys because that's the way it's going."
Jenkins is part of a great undercard of Ricky Burns' WBO World Lightweight title defense against Raymundo Beltran. Chief support is provided by Steve Simmons clash with fellow unbeaten Cruiserweight David Graf for the vacant WBC International Silver title, and Jon Slowey facing Spain's Angel Lorente for the vacant WBC International Featherweight Silver title.
Unbeaten Central Area Lightweight champion Scotty Cardle takes on his Northern Area counterpart Gary Fox, former British Featherweight champion Paul Appleby returns to action at Light Welterweight, impressive Prizefighter Light Welterweights III winner Chris Jenkins is in six-round action and they are joined by Scottish prospects David Brophy and Michael Roberts plus Liverpool's unbeaten Super Middleweight talent Callum Smith, with Luke Campbell MBE no longer on the bill because of a family illness.
RUNNING ORDER – SUBJECT TO CHANGE
6pm – red button 6 x 3 mins Light-Welterweight Contest
CHRIS JENKINS v LAURENT FERRA
(Garnat) (France)
6.30pm – red button 6 x 3 mins Light-Welterweight Contest
PAUL APPLEBY v LEE CONNELLY
(South Queensferry) (Chesterfield)
7pm – red button 10 x 3 mins Vacant WBC International Featherweight Silver Championship
JON SLOWEY v ANGEL LORENTE
(Glasgow) (Spain)
LIVE FROM 8PM
6 x 3 mins Super Middleweight Contest
CALLUM SMITH v KIRILL PSONKO
(Liverpool) (Lithuania)
Followed by
8 x 3 mins Lightweight Contest
SCOTT CARDLE v GARY FOX
(Lytham St Annes) (Fishburn)
Followed by
10 x 3 mins Vacant WBC International Cruiserweight Silver Championship
STEPHEN SIMMONS v DAVID GRAF
(Edinburgh) (Germany)
Followed by
12 x 3 mins WBO Lightweight Championship
RICKY BURNS v RAYMUNDO BELTRAN
(Coatbridge) (Mexico)
To be scheduled
6 x 3 mins Middleweight Contest
DAVID BROPHY v JASON BALL
(Caldercruix) (Doncaster)
6 x 3 mins Super-Featherweight Contest
MICHAEL ROBERTS v EDDIE NESBITT
(Glasgow) (Belfast)
Comments
comments