St Neots teen sensation Tommy Martin is set to be back in action once more, on July 27th at York Hall in Bethnal Green, London, where he will feature on the undercard of fellow TRAD TKO gym mate Ian Bailey's first defense of his Southern Area Featherweight title.
Nineteen year old Tommy will be making his fourth professional outing, against Nuneaton's Kristian Laight, on the show interestingly titled 'Turf War' by Tommy's manager and promoter Johnny Eames.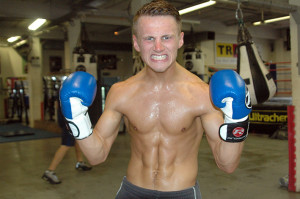 Back in November young Tommy grabbed the headlines on his pro debut, with a spectacular third round stoppage of tough Lithuanian Artur Saniuk.
Next up for Tommy, in February this year, was Birmingham's Jason Nesbitt, whilst another stoppage finish didn't emerge, Tommy showcased his exceptional skills with a fantastic shutout 60-54 points victory over the highly experienced Brummie.
Young Tommy was handed another big test on his third outing, when he came up against the man with the 'Thunder' ring tag, Gloucester's Andrew Harris – by the way that's the very same Harris who faces Olympic Gold Medalist Luke Campbell when he pro debuts this weekend – once again Tommy came through with flying colours, albeit by a close 38-37 points margin.
Following yet another grueling training session, at the TRAD TKO gym in Canning Town, young Tommy took some time out to talk about his upcoming fight.
"I like being busy, at the end of the day I'm young, I'll always be fresh, so why not get them in while I can. I'm fighting a bloke called Kristian Laight, he's an awkward southpaw. I haven't boxed a southpaw yet in my career, so let's see how it goes on the 27th.
Luckily there's a few southpaws here at the TRAD TKO, so have been getting some experience against a southpaw.
I've also been sparring Michael Grant, who's also fighting on the show, he's a switch hitter, also been sparring Billy Morgan, who fights at Wembley Arena the week before my fight.
Also done a lot of sparring with Prizefighter contestant Liam Shinkwin, he's also Southern area Champion, so yeah been getting some good sparring here at the TRAD TKO.
I love being a pro, I know that I'll do a lot better in the pros, than in the amateurs, just because I like to live the sport, live and breath the sport.
That's why I stay down here five days a week, to make the most of training I can. I love the TRAD TKO, I'm happy here. To be honest I couldn't imagine being anywhere else.
On top of that Johnny (manager and promoter Johnny Eames) keeps me really busy and keeps me on my toes.
Thank you to anyone that's buying a ticket, we've smashed the ticket sales again, looking at roughly two hundred tickets we've done already, so thanks for the support and look forward to making you proud when I fight on the 27th."
Tommy Martin versus Kristian Laight features on the undercard of the Ian Bailey-Dan Naylor Southern Area Featherweight title clash, at the Johnny Eames TRAD TKO Events promoted 'Turf War' at York Hall, Bethnal Green, London on Saturday 27th July 2013.