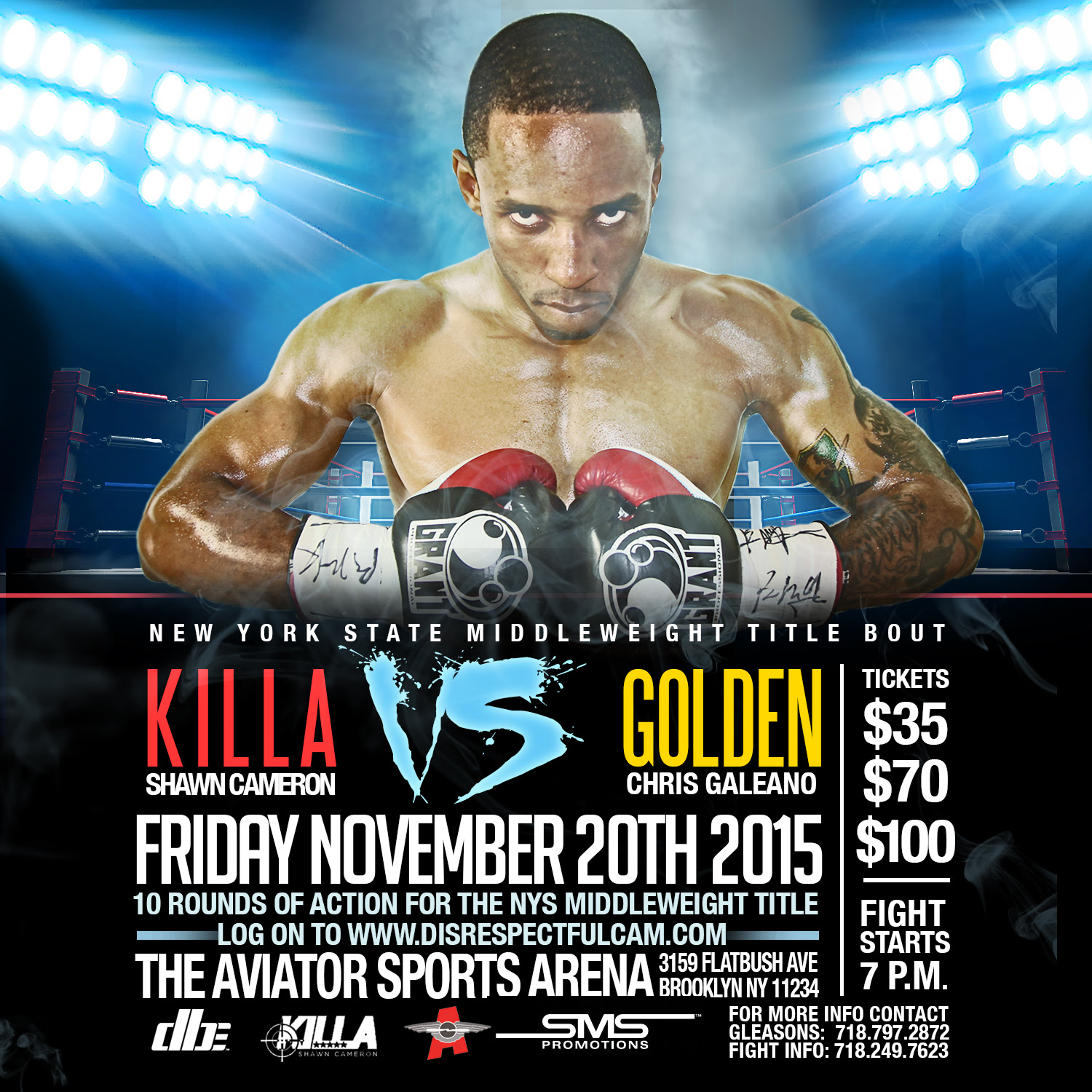 U.S. Army war veteran Shawn "Killa" Cameron (10-0, 5 KOs) is amid preparation for the biggest test of his professional boxing career to this point, facing fellow undefeated combatant Chris Galeano (9-0, 1 KO) on Friday, November 20th, at the Aviator Sports Complex in Brooklyn. Promoted by DiBella Entertainment, Cameron will be vying for the New York State Middleweight Championship in the 10-round main event pairing.
"This is boxing. At the end of the day, it's all about pushing yourself," Cameron said. "When they approached me with this fight, seeing how I know these guys and their trainer, I said if they want to do it, then I don't have a problem doing it. The boxing community is small, so you're going to end up fighting people you know. Nothing but respect to Galeano, but this is a fight. I'm undefeated, and he's undefeated. I'm going in there to defend mine, and I know he's going to come hard as well. May the best man win."
Coming off a fifth round knockout of Francisco Reza in July, Cameron will be fighting for the fourth time of 2015 when he meets Galeano, a fighter with whom he is fairly familiar since the two fought once before when they were coming up in the New York amateur program. Galeano got the win in that bout, but Cameron has always had an aggressive skillset that most considered to be tailor made for the professional game. However, he still had a very successful amateur career as well, winning the 2009 New York Golden Gloves at 152 pounds, while also reaching the finals of the 2009 New York Metros and quarterfinals of the 2010 National PAL Tournament.
Before Cameron ever laced up a pair of boxing gloves, he served two tours of duty for the U.S. Army in Iraq. The Brooklyn native served six years overall for the U.S. Army and was ranked as a Staff Sergeant when he completed his services in 2006.
A native of the Bronx, Galeano was an accomplished amateur fighter, winning the 2013 New York Golden Gloves and USA National Championships at 165 pounds. Next Friday night will mark his fifth bout of 2015.