The United States team and their fellow competitors learned their road to Olympic qualification on Friday at the Americas Qualifier in Buenos Aires, Argentina. All of the American athletes successfully made weight on Friday night prior to the official tournament draw at the host hotel. More than 180 athletes from 33 nations in south, central and north America traveled to Buenos Aires for the Olympic qualifying event.
None of the U.S. team members will compete in opening night action but three American boxers will step in to the ring for Saturday's preliminary competition at the Ferial la Rural de Palermo in Buenos Aires. Light heavyweight Jonathan Esquivel (Anaheim, Calif.) and super heavyweight Marlo Moore (Hayward, Calif.) will compete in the early session, facing the Bahamas Israel Johnson and Canada's Aaron Huggins respectively. Lightweight Mikaela Mayer (Los Angeles, Calif.) will take on Kimberly Gittens from Barbados in evening action.
Three more American boxers will compete in Sunday afternoon's preliminary competition. Bantamweight Shakur Stevenson (Newark, N.J.) will open the tournament in a bout with Colombia's Luis David Vargas while middleweight Charles Conwell (Cleveland Heights, Ohio) will battle Alejandro Mora of Uruguay. Heavyweight Cam F. Awesome (Lenexa, Kansas) will close the day's action from Team USA in a match with Davon Hamilton of the Bahamas.
On Monday, four U.S. athletes will compete in their first bouts. Welterweight Paul Kroll (Philadelphia, Pa.) will take on Hopkin Ebanks of the Cayman Islands in the afternoon session. Flyweight Virginia Fuchs (Kemah, Texas) and 2012 Olympic gold medalist middleweight Claressa Shields (Flint, Mich.) will box in Monday's evening competition. Fuchs will face the winner of an opening round match between Ecuador and Mexico and Shields will challenge Panama's Atheyna Byion in her first bout of the tournament. Pan American Games flyweight champion Antonio Vargas (Kissimmee, Fla.) will take on the Dominican Republic's Leonel De Los Santos in evening session as well.
Light flyweight Nico Hernandez (Wichita, Kansas) and light welterweight Gary Russell (Capitol Heights, Md.) will be the final two U.S. boxers to compete in Argentina, opening action on Wednesday. Hernandez will face the winner of Venezuela and Costa Rica in the early session while Russell faces the victor of a bout between Costa Rica and Ecuador in evening competition.
The American team arrived in Buenos Aires on March 2 and spent their final week of training camp acclimating to their new time zone and surroundings in Argentina. All 12 Olympic Trials winners will compete in the continental qualifying event with 25 Olympic spots on the line in Buenos Aires in the 13 Olympic weight divisions.
Kroll, Conwell, Awesome and Moore will all need to place in the top three to secure their Olympic berths. The third place spot will be determined by a consolation bout on the same date as the championship matches.
Hernandez, Fuchs, Vargas, Stevenson, Russell, Shields and Esquivel will all need to advance to the tournament finals and Mayer will need to win gold to earn their spots in the 2016 Olympic Games.
USA Boxing Women's National Team Head Coach Billy Walsh (Colorado Springs, Colo.) and coaches Joe Guzman (Colorado Springs, Colo.), Kay Koroma (Burke, Va.), Benny Roman (Brooklyn, N.Y.) and Augie Sanchez (Las Vegas, Nev.) will guide the American team in Argentina.
The Americas Olympic Qualifier is the first of three qualifying opportunities for the men and two for the female athletes. The top four athletes in the Women's World Championships in May will also advance to the 2016 Olympic Games. The men will have two additional qualifying events in in June and potentially early July to determine the final male athletes competing in Brazil.
Lightweight Carlos Balderas (Santa Maria, Calif.) qualified for the 2016 Olympics based upon his finish in the 2015 World Series of Boxing season and does not need to compete in any qualifying events.
Team USA Boxing Opening Bouts
108 lbs: Nico Hernandez, Wichita, Kansas/USA vs. winner of Venezuela/Costa Rica on March 16
112 lbs/female: Virginia Fuchs, Kemah, Texas/USA vs winner of Ecuador/Mexico on March 14
114 lbs/male: Antonio Vargas, Kissimmee, Fla./USA vs. Leonel De Los Santos, DOM on March 14
123 lbs/male: Shakur Stevenson, Newark, N.J./USA vs. Luis David Vargas, COL on March 13
132 lbs/female: Mikaela Mayer, Los Angeles, Calif./USA vs. Kimberly Gittens, BAR on March 12
141 lbs/male: Gary Russell, Capitol Heights, Md./USA vs. Costa Rica/Ecuador on March 16
152 lbs/male: Paul Kroll, Philadelphia, Pa./USA vs. Hopkin Ebanks, CAY on March 14
165 lbs/female: Claressa Shields, Flint, Mich./USA vs. Atheyna Byion, PAN on March 14
165 lbs/male: Charles Conwell, Cleveland Heights, Ohio/USA vs. Alejandro More, URU on March 13
178 lbs/male: Jonathan Esquivel, Anaheim, Calif./USA vs. Israel Johnson, BAH on March 12
201 lbs/male: Cam F. Awesome, Lenexa, Kansas/USA vs. Davon Hamilton, BAH on March 13
201+ lbs/male: Marlo Moore, Hayward, Calif./USA vs. Aaron Huggins, CAN, on March 12
World Series of Boxing Week 9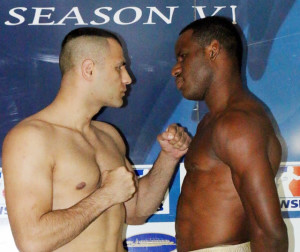 Cuba Domadores unleash young talent for first home match of the season against Turkiye Conquerors
Cuba Domadores welcome Turkiye Conquerors to Havana on Friday night for the Season IV champions' first home match of the current campaign. The hosts will be confident of bouncing back from their 3-2 Week 7 defeat to Ukraine Otamans having already inflicted a 5-0 whitewash on the Conquerors in Istanbul this season, while their opponents have just one win under their belts so far, against China Dragons in Week 1.
Cuba Domadores' 24 year-old lightweight Santiago Amador is the first in the ring against Turkey's Hamza Kartal. Amador joined the national side in 2014 and started his campaign with a resounding win over Huang Xin in China during Week 5, and will be favourite to get the Cubans off to a winning start.
Domadores' 2014 Youth Olympic Games winner and AIBA Youth World Champion Javier Ibanez Diaz replaces Robeisy Ramirez for a debut WSB appearance at bantamweight against Turkey's Nurettin Ovat, before the rather more experienced 26-year-old Yasniel Toledo Lopez takes on Yakup Sener in the evening's light welterweight bout.
Cuba Domadores' Arlen Lopez has an enviable WSB record which the AIBA World Champion will be looking to extend against Turkiye Conquerors' Evren Tibukoglu, before the final bout of the evening sees the hosts' rising super heavyweight talent Frank Sanchez face Turkey's resilient Seyda Keser, unbeaten so far in Season VI, in what could be the bout of the tie.
Group A leaders Ukraine Otamans looking to prove themselves on the road against China Dragons
China Dragons will host Ukraine Otamans at the Sanya Sport Center on Saturday night, hoping to avenge the 5-0 whitewash that the visitors delivered in Week 3. With just one win so far this season, the Dragons will be looking to the home crowd to provide some extra lift, while for the Otamans it is a first chance to prove themselves on the road this season after three straight home wins, including a superb triumph over Cuba Domadores a fortnight ago, have propelled them to the top of Group A.
China Dragons' light flyweight He Junjun recorded the fourth WSB win of his career against Hamza Kartal in the Dragons' narrow 3-2 defeat in Week 1 against Turkiye Conquerors, and will be hoping to make it five against Otamans' Nazar Kurotchyn. Kurotchyn has also beaten Kartal this season, however, and will provide a rugged challenge for the home boxer.
Xu Boxiang was thrust into the spotlight when he was named WSB Athlete of Week 1 for a brilliant technical win in Istanbul, but he now faces the tough Ukrainian Oleh Dovhun in an intriguing bantamweight contest between two contrasting styles. Following them into the ring will be China Dragons' Meng Caicheng looking for a first win of the season against Ukraine's current Under-22 Champion and President's Cup silver medalist Denys Pesotskyy.
In the penultimate bout of the evening, Hanati Ayiben will make his WSB debut against the Otamans' Baku 2015 European Games representative Valerii Kharlamov, who won his Season VI opener against Turkiye Conquerors' Evren Tibukoglu in Week 5. Rounding off the action will be Dragons' debuting heavyweight Zhang Zhe, gold medalist a weight higher at the ASBC Asian Confederation Youth Championships three years ago, and Ukraine Otamans' Dmytro Lisovyi, who is in good form after some great AOB results in 2015.
Russian Boxing Team looking to book place in play-offs with win over Rafako Hussars Poland in Moscow
Following brilliant away wins against all three of their Group C rivals, The Russian Boxing Team sets up in Moscow knowing that a win over Rafako Hussars Poland will secure their place in this year's play-offs. The Hussars pushed the Russians all the way in their Week 3 encounter, but after letting slip a 2-0 lead in Szeczin, they now remain winless after four matches.
Former Russian National Champion Belik Galanov is famous for his attacking style, and the opening bout will be a big test for the Hussars' AIBA World Championship quarter-finalist Dawid Jagodzinski, who has yet to replicate his Season V form in the current campaign.
AIBA World Championship silver medalist Vladimir Nikitin makes his first WSB appearance of the season after a brilliant 2015 saw him among the first boxers to qualify for Rio 2016. He faces Rafako Hussars' draft pick Riccardo D'Andrea in the evening's bantamweight contest, with the Italian looking to erase his Week 1 TKO defeat to Venezuela Caciques' Jose Diaz.
Russian U22 National Champion Grigorii Lizunenko steps in at light welterweight for some precious international experience in the evening's third bout. The 22-year-old Russian will face Poland's Mateusz Kostecki, who has recently moved down a weight class and was only narrowly defeated by Argentina Condors' Ronan Sanchez in Week 5.
The most eagerly awaited battle of the night then comes between the middleweight giants Petr Khamukov and Tomasz Jablonski in a repeat of their 2015 European Confederation Championship final. The Russian Khamukov came out triumphant that time, but Jablonski's WSB pedigree is clear, and after a 6-1 record last season he will be confident of recording his second win of the current campaign.
The final bout of the night will see Russian U22 National silver medalist Islam Tekeev make his WSB debut at just 19 years old. Tekeev meets Rafako Hussars' strong Michal Olas, who will be hoping for a repeat of his Week 1 win against Venezuela Caciques' Colombian star Deivis Julio.