Two-time world champion Steve "USS" Cunningham (24-3, 12 KOs) has arrived in Frankfurt, Germany. On February 4, the American veteran will face IBF Cruiserweight Champion Yoan Pablo Hernandez (25-1, 13 KOs) in a hotly-anticipated rematch at the Fraport Arena.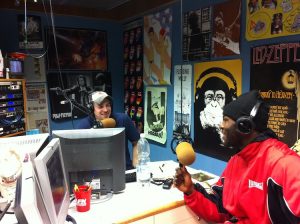 Cunningham and his team – Naazim Richardson, Mark Osborn, Khalib Whitmore and Jonathan Adderly – landed on Wednesday.
On Friday, they paid a special visit to AFN Wiesbaden (American Forces Network). "It's great to catch up with AFN and connect with my military brothers and sisters," Cunningham said. "I am ready for a battle with Hernandez on February 4. I am going to tear the title away from him and bring it back to America."
Be sure to check out our full Hernandez-Cunningham II preview & prediction to learn more about the upcoming rematch, as well as the controversy which surrounded the first fight and the way it ended. Next week, be on the lookout for all of the fight week updates for the fight, including media workouts, press conferences, the pre-fight weigh-in and more, all building up to the battle for the IBF cruiserweight crown.