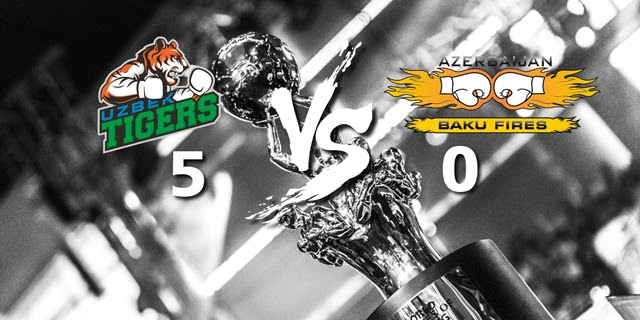 Uzbek Tigers reach play-offs after brilliant 5-0 whitewash of rivals Azerbaijan Baku Fires in Tashkent
The Uzbek Tigers once again showed their fledgling World Series of Boxing prowess with a comprehensive win over Azerbaijan Baku Fires on Saturday night. The uncompromising manner of the 5-0 whitewash against a strong Azeri side, in what was only the team's fifth WSB match together, sent out a clear message to the rest of the competition as the Tigers confirmed their place in the Season VI play-offs with a match to go.
The opening light flyweight bout saw Uzbek Tigers' newcomer Nodirjon Mirzakhmedov take on Baku Fires' Rasul Saliev, and it was the visiting boxer who began the more aggressively, with Mirzakhmedov content to bide his time and wait for counter-attacking opportunities. It all came together for the young Uzbek as he found his range in the third round, before dominating the final throes of the bout with the crowd behind him and easing to an emphatic points win.
Tigers' bantamweight Abdulkhay Sharakhmatov maintained his unbeaten record this season with an equally impressive win over Baku Fires' Yashar Magomedov, the swift 19 year-old delivering some superb combinations that Magomedov had no answer to.
At 2-0 up, Uzbekistan's newly crowned National Champion Fazliddin Meliboev then narrowly edged a split decision against Zaur Abdullayev to seal the match. A brilliant contest saw Abdullayev start well before Meliboev took the advantage with a superb third round, and despite the Azeri taking the fifth, the Tigers' new star had already done enough to guarantee his team the win.
The hosts' 23-year-old middleweight Ulugbek Khakberdiev had opened his WSB campaign with a brilliant win over Puerto Rico Hurricanes' Raul Sanchez in Week 2, but Baku Fires' international newcomer Levani Lukhutashvili was too inexperienced to trouble his opponent, and the almost inevitable knockout came in the third round after a series of big uppercuts to the delight of the crowd.
Sardorbek Begaliev replaced Mirzobek Khasanov in the Tigers team and had a debut to remember against Azerbaijan Baku Fires' 28-year-old Haji Murtuzaliyev, delivering a unanimous points win that sealed the 5-0 victory in front of his home fans. The Tigers now face Astana Arlans Kazakhstan in an intriguing Group D finale on 2 April.