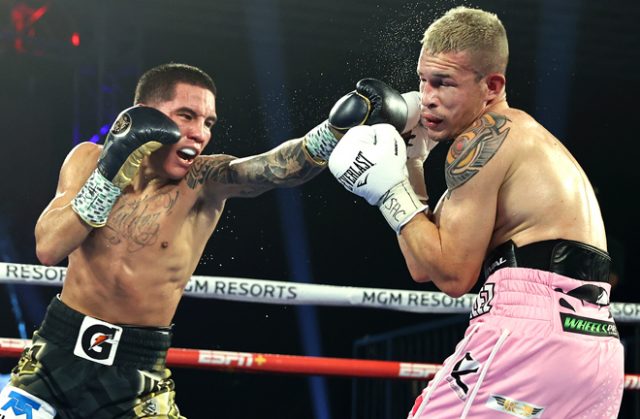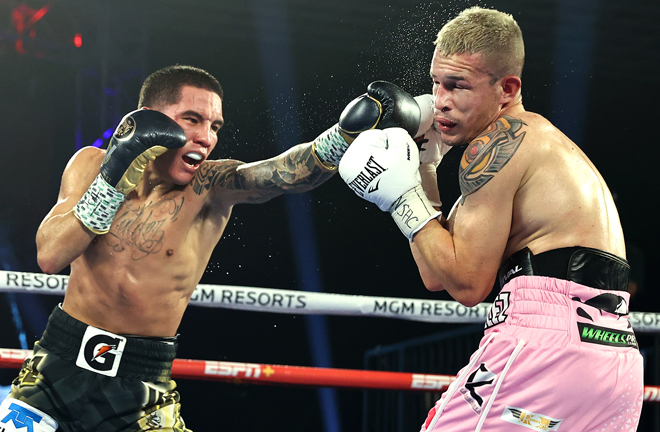 Oscar Valdez concluded the Top Rank on ESPN summer series with a tenth and final round knockout over the tough and never previously stopped, Jayson Velez in Las Vegas.
Former Featherweight World champion, Valdez (28-0, 22 KOs) began the Super-Featherweight clash tentatively, as his opponent worked well off his jab, but the Mexican was simply warming to the task ahead after being away from the ring since November 2019.
The Puerto Rican was making things hard in the early going as his style and range of punches were confusing the favourite.
Valdez eventually settled down after letting Velez (29-7-1, 21 KOs) have some early success and in the fifth round he made a breakthrough, with a perfectly timed left hook to the chin, causing Velez to stagger back and then fall to the canvas.
He bravely beat the count, with the round's conclusion coming to his rescue. This seemed to limit Velez's ambitions from there on, as the Mexican raised his work rate and output to wear the former World title challenger down.
The ninth round saw Velez deducted a point for a low blow, and Valdez increased the tempo, as a variety of power punches seemed to shake Velez up.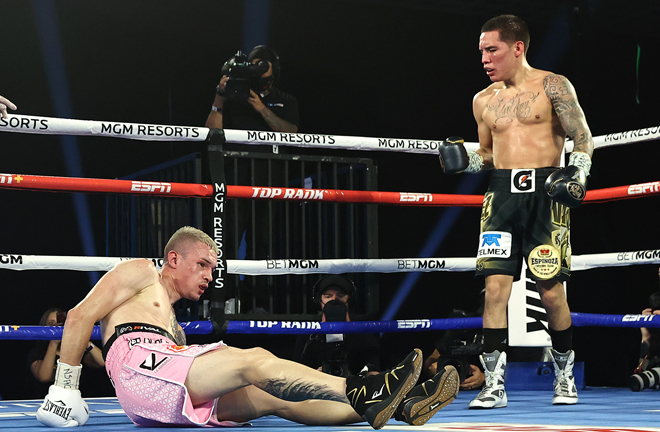 The break between rounds didn't aid the 32-year-old and Valdez was content on closing the show rather than settling for a points win.
The 29-year-old began the final round on the offence, setting up a left to the temple which left Velez on unsteady legs.
He managed to clear his head and tie up, but a short left hook dropped him for a second time. On beating the count again, Valdez stalked his prey and two right hands on a stumbling and tired Velez forced the referee's intervention.
The victory for Valdez sets up a mouthwatering all-Mexican clash with WBC Super-Featherweight champion, Miguel Berchelt and Valdez will need to be much better if he is to come out on top in that encounter.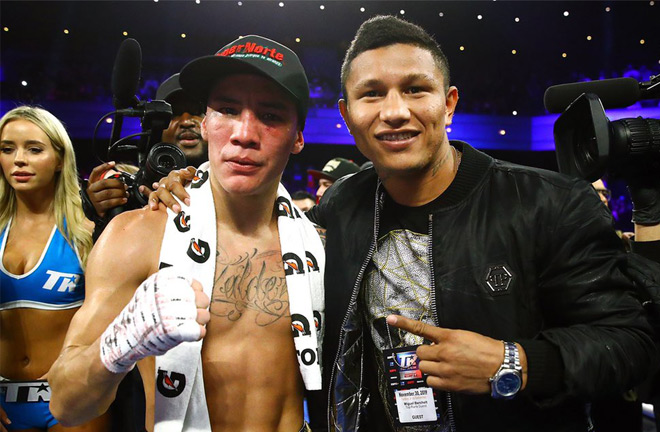 "Miguel Berchelt is the fight I want," Valdez said.
"He has the WBC title at 130 pounds. I want the WBC title. Miguel and I would make for a great fight.
"Velez was everything I expected, a tough warrior who fought his heart out.
"I commend him for a great performance and a great fight."
Isaac Dogboe made a Featherweight debut under new trainer Barry Hunter after losing his WBO Super Bantamweight title in back-to-back losses to Emmanuel Navarette, securing a dominant eighth and last round stoppage of the faded former World title challenger, Chris Avalos.
Dogboe (21-2, 15 KOs) was in control from start to finish, constantly hurting the Californian with body shots and right hands over the top.
Avalos (27-8, 20 KOs) was brave throughout, but couldn't last until the final bell. A hard right hand forced referee Russell Mora to wave the fight off.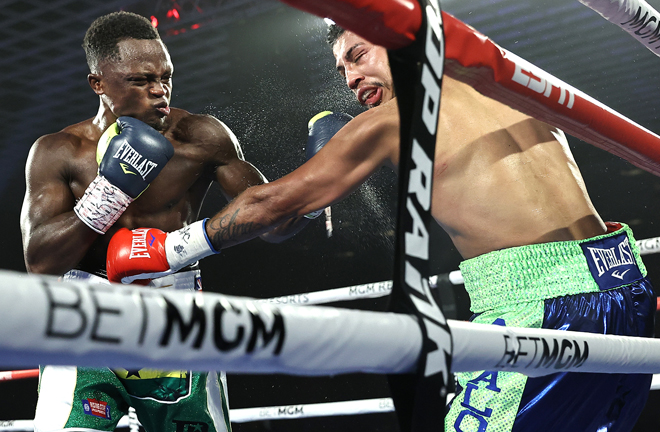 Puerto Rican wrecking ball Edgar Berlanga (14-0, 14 KOs) yet again enhanced his reputation, after continuing his first round knockout spree with a 14th successive opening round wipeout, this time against Eric Moon (11-3, 6 KOs).
Moon met Berlanga centre ring from the off, and it proved a fatal error, as a sledgehammer right hand with just a minute gone left Moon unable to regain his feet, with the fight was waved off.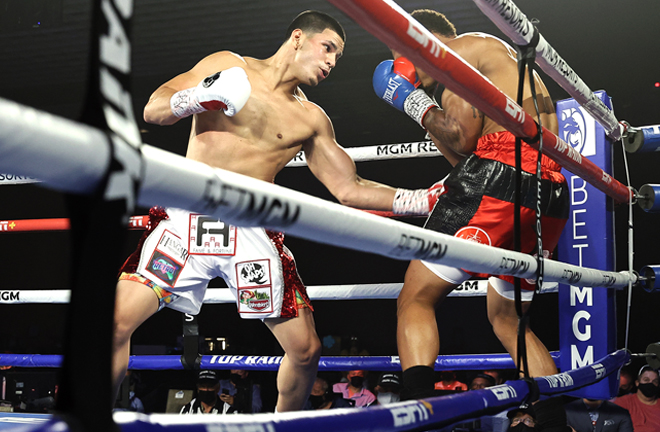 Elsewhere, Light-Flyweight Kim Clavel (12-0, 2 KOs) claimed a unanimous decision over eight round against Natalie Gonzalez (6-1, 1 KO), with all judges tallying 80-72 in what was a competitive and fast paced fight.
Clavel, who returned to work as a nurse in the battle against COVID-19, was awarded the 2020 Pat Tillman Award for Service at the ESPY awards for her outstanding work on the Montreal elder care facilities.
Elvis Rodriguez (8-0-1, 8 KOs) remained unbeaten with a second round stoppage of Dennis Okoth (4-4-1, 2 KOs).