Oscar Valdez (25-0, 20 KOs) makes his sixth featherweight title defense against challenger Jason Sanchez (14-0, 7 KOs) in a main event this Saturday at the Sparks Convention Center in Reno, Nevada.
Tale of the Tape
The announcement of this bout was met with skepticism as Sanchez is not well-known at all. It's another fight featuring a live underdog with everything to gain and nothing to lose, and the favorite with very little to gain and everything to lose.
Sanchez, 24, of Albuquerque turned pro in 2012 and has fought mostly in his home state, and beat Daniel Olea via TKO last time out on the same card as Valdez. His best win came over Jean Carlos Rivera last October which was a legit solid win.
He's ranked No. 11 for Valdez's WBO strap but it should have been Erick Ituarte (21-1-1, 3 Kos), who should have been the opponent. However, the WBO declined to sanction the bout for its title because Ituarte is not among its featherweight rankings so Sanchez got the call instead.
The unexpected title shot presents a real opportunity for Sanchez to become only the fifth New Mexican to win a world title and that possibility was not lost on him.
"Coming from Albuquerque, New Mexico, I knew I had to work extra hard to be noticed and to get where I'm right now. I will be bringing this belt home to Albuquerque, to my family, my supporters, and most of all, my late brother Alan Sanchez. I believe he guided me down this road and that my journey is only beginning."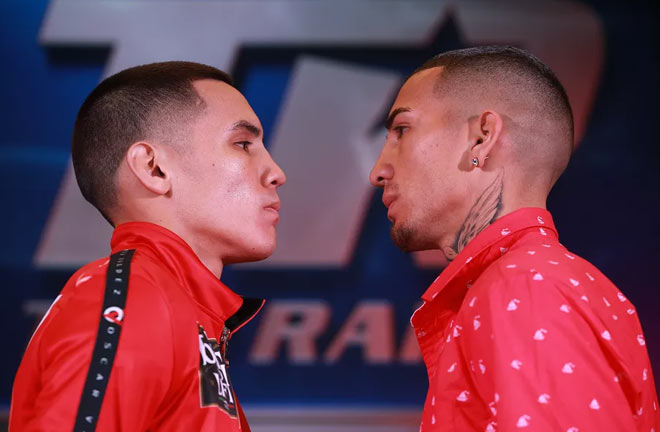 On the other hand, Valdez is a proven winner at the championship level. He's coming off of a seventh-round destruction of Carmine Tommasone in February where he basically pummeled his opponent throughout the entire fight.
He also holds a decisive twelve-round unanimous decision win over former super bantamweight titleholder Scott Quigg. He suffered a broken jaw in that war but still punished Quigg by breaking his nose. It's just two extraordinary examples of how far Valdez will go to defend his belt and how difficult it will be to defeat him.
Furthermore, Valdez is in his prime, underrated and has been in tough fights. Valdez just appears to be on a different level than Sanchez and many don't see him losing anytime soon based upon how he has fought.
Three Keys to Victory
Punching Power – Valdez has punishing power in both hands compared to Sanchez who seems to have none. Valdez has also stopped six of his last ten opponents and has been impressive in doing so. Sanchez's lack of punching power could prove problematic for a young, inexperienced prospect against an experienced champion like Valdez especially if they cannot turn the fight around when landing their own leather.
Resumes – As far as competition, Valdez has simply been better, even if his performances have been uneven in world title fights. He's still a two-time Olympian from Mexico, who knocked out an unbeaten Tommasone on the same card that both men appeared which Sanchez stopped Olea. Sanchez should be marginally better than Tommasone but is inexperienced with just fourteen fights and not much of an amateur career to behind him.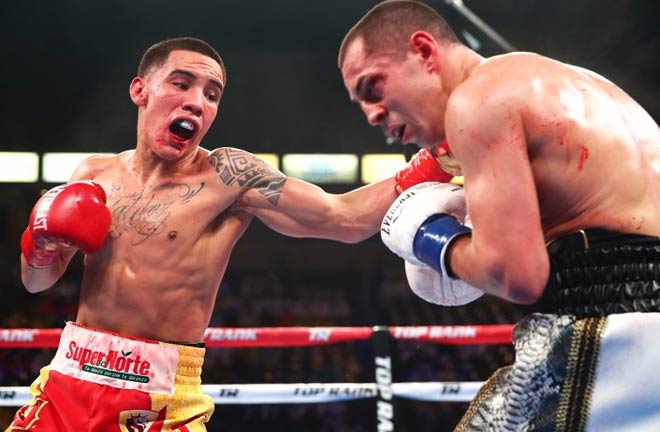 Momentum – As mentioned, Valdez will be making the sixth defense of his title in quick succession following his dominance of Tammasone. Sanchez is fighting for a world title for the first time with many believing that he is underserving.
Prediction
This fight should not be as easy for Valdez as his last outing but he is expected to dominate Sanchez. He has shown very few weaknesses throughout his career and there is no reason to believe that Sanchez has the mettle to sufficiently test him. I suspect that Sanchez will look to go right at Valdez and that should play into the champion's hands not to mention his superior power. He'll pay a heavy price for that mistake against a champion who gets the knockout win 80% of the time.
Valdez by knockout in the fifth round.
Live coverage will begin at 10 pm ET on ESPN, with prelim coverage beginning at 6:30pm ET on ESPN+.