-Darchinyan vs. Mares: Bantamweight Tournament Semifinal Bout-
On December 11, top bantamweights Vic Darchinyan and Abner Mares will duke it out over 12 rounds in Leon, Mexico. This bout will be part of a dual bantamweight explosion, with Yonnhy Perez and Joseph Agbeko fighting in the other matchup. This foursome of outstanding bantamweights are now participating in a single elimination tournament, so the stakes are high. Fernando Montiel is the clear number-one at 118, but the winner of this mini-tourney becomes the clear #2 guy. Some great fights are coming down the pike in what is a truly resurgent bantamweight division.
Darchinyan vs. Mares Preview
December 11, 2010
Leon, Mexico
Bantamweights: 12 Rounds
Vic Darchinyan, 35-2-1 (27 KOs), Sydney, Australia/Armenia
Vs.
Abner Mares, 20-0-1 (13 KOs), Guadalajara, Mexico/Montebello, California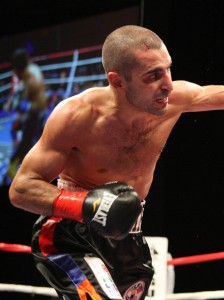 Mares, 24, is ten years younger than Darchinyan and looks to bank on his youthful energy to outwork the sometimes-lethargic Darchinyan. But make no mistake, Darchinyan has already scaled the heights Mares is hoping to climb. A longtime flyweight titlist, Darchinyan has gone 7-1-1 since his catastrophic kayo loss to Nonito Donaire over 3 years ago. He crushed capable IBF 115-pound titlist Dmitri Kirilov, scored a dominant upset stoppage over Cristian Mijares, and pummeled Jorge Arce. His momentum was slowed in a close decision loss to Joseph Agbeko, when Darchinyan seemed a bit off his best form, perhaps overlooking the talented Ghanaian.
Some say Darchinyan is on the downslide. It's been said before. After a draw with Z Gorres, some were citing Vic's erosion and he came back with 3 consecutive big wins. In his last three wins since the Agbeko setback, he has looked reasonably well, albeit against limited opposition. As of now, there is nothing solid to go by for those saying he's finished. The loss to Agbeko was troubling, but after a breakneck schedule of tough matches, Darchinyan might have just grown a bit stale at that point. After three get-well wins, Darchinyan should be at his best for this fight.
Mares made his presence felt in May—with a spirited challenge of IBF Champion Yonnhy Perez. Though he only managed a draw, he showed he has what it takes to compete at the top of this increasingly difficult division. He showed a lot of moxie, high enthusiasm, and growing skills in battling the talented champion on what appeared to be at least even terms. It seemed like he might have even edged the fight. It was his first true world-class test and the type of experience that figures to make him a better fighter in the future.
Now that Mares has his feet wet, expect him to battle even more confidently and doggedly against Darchinyan. At the same time, he may have gained a false sense of security against Perez, who is more of a volume puncher. Vic hits a lot harder and if Mares is too brazen in his approach, he could find himself humbled quickly. Mares might be coerced to become more measured in his approach, which he may or may not be totally comfortable in doing. Darchinyan has also managed to develop a few wrinkles in his older years. He's not quite as lost as he used to be when his power didn't win the day. Nowadays, Vic has the ability to be more patient, rely on a high punch output, and concentrate on winning rounds rather than shooting for knockouts constantly.
Darchinyan vs. Mares Prediction
Darchinyan, in his only test at 118, came up short against the formidable Joseph Agbeko. I expect him to be better mentally prepared for this bout. He realizes at 34, that it won't be easy for a former standout at 112 and 115 to thrive during such a deep era at 118. A spiritually peaking Darchinyan is a tough out for anyone. He still has a ton of fight left in him and has the equalizing power to trouble the defensively available Mares.
I suspect Mares will benefit from fighting in his native Mexico. He strikes one as the type of fighter who is moved by the lore of great Mexican warriors and he wants to become one of them. This is his time. These opportunities do not come along all the time and Mares will seize the moment. He will utilize his greater speed to maneuver around Darchinyan in the early rounds—cautious of the veteran's power.
But Darchinyan is a strong and awkward southpaw who will be fighting with a great deal of pride. He will pick up steam and begin touching Mares with increasing frequency. A middle-rounds knockdown will give way to a more exciting fight, featuring toe-to-toe exchanges and furious action. After 9 rounds, Mares will have a slight lead on the cards, but Darchinyan's greater experience, savagery, and punching power will create major problems for Mares. Though Mares will answer an excruciating gut-check, Darchinyan will sweep the final few sessions to finish at the wire with his nose ahead.
Prediction: Vic Darchinyan by unanimous decision