In a continuation of the exciting Showtime Bantamweight Tournament, Vic Darchinyan challenges Anselmo Moreno for his WBA belt on the undercard of the Abner Mares-Joseph Agbeko rematch. Moreno will be fighting in the USA for the first time in a house full of Armenians. In fact, this is the same building where Darchinyan scored two of his biggest triumphs–against Cristian Mijares and Jorge Arce.
Date: December 3, 2011
Site: Honda Center in Anaheim, California
Titles: WBA Bantamweight Title: 12 Rounds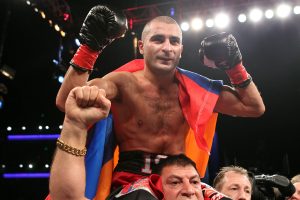 For Darchinyan, this is chance to remain a part of the cream of the crop of a still-loaded bantamweight division. Moreno has a chance to increase his international profile, enter the upper-echelon of the division, and secure some big fights in the future. The term "crossroads fight" is perhaps overused, but this fight will be critical in determining the career trajectories of these two boxers.
By the Numbers
Darchinyan: The "Raging Bull" is now 35, in a pro career that began in 2000, after Darchinyan represented Armenia in the 2000 Olympics. Is probably a bit shorter than his advertised height of 5'5-and-a-half and with a 64-inch reach, his size is slightly small for the weight class. The southpaw is 37-3-1 (27).
Moreno: Big for a bantamweight at 5'8," Moreno is only 26, despite a pro career that dates back to 2002. He has only 11 knockouts in a 31-1-1 record. The Panamanian southpaw has won 25 consecutive bouts.
Styles
Darchinyan: The southpaw brawler has added new dimensions over the years, including increased speed and boxing ability, but power remains the most compelling part of his game. He uses his awkwardness to good affect, setting up his power-shots, including a hard hook and smashing straight left.
Moreno: Enjoys taking the lead with his in-and-out southpaw style. Features a lively jab, which he utilizes to dictate pace and distance. Above-average height and reach allows him to better negotiate a long-range fight.
Ring Record and Quality of Opposition
Darchinyan: Beat a respected flyweight titleholder in Irene Pacheco in 2004 and racked up 6 defenses (all by knockout) before running into Nonito Donaire and losing his belt by 5th-round TKO. Eventually went on to become the first unified champion at 115-pounds, with a vicious run of knockouts against Dmitry Kirilov, Cristian Mijares, and Jorge Arce. Dropped back to 115 after an upset loss to Joseph Agbeko and racked up some more wins.
Any questions about Vic's ability to compete at 118 were answered during the Showtime Bantamweight Tournament. Lost a disputed split decision to eventual tournament champion Abner Mares in a fight that might have gone the other way with a referee who was harsher about low blows. Decimated Yonnhy Perez, before scoring a wipeout decision over tough Evans Mbamba in Armenia in September.
Moreno: His only loss and draw occurred when he was 17 and still in the neophyte 4-round stage of his career. It may come as a surprise that this will be Moreno's 10th WBA title fight. He defeated a capable, though perhaps slipping, champion in Volodymyr Sydorenko in 2008, before racking up 8 defenses as a busy champion. Repeated the Sydorenko win a year later.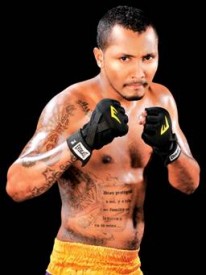 Struggled in a pair of defenses against Nehomar Cermeno. In fact, it is worth noting that in Moreno's last 7 wins, 4 were decided by split decision. Perhaps more troubling is that none of those fights were against top guys.
Questions:
Darchinyan: Is his win over Yonnhy Perez a false indicator that he still has it? Or did he merely nudge a teetering Perez down the hill? When a bantamweight is nearly 36 with the better part of a decade fighting top-level competition under his belt, is it just a matter of time before the erosion begins to set in?
Moreno: Has he established enough separation from the second-tier group of bantamweights to warrant standing a good chance against a top-tier guy? Is the dye cast or is Moreno capable of jumping up another class at this juncture in his career? Though only 26, has he reached his top level? Can he hit Darchinyan hard enough to instill the "The Raging Bull" with at least a healthy respect?
Darchinyan vs. Moreno Prediction
Moreno is a steady and capable boxer, but lacks that special something or extra dimension to defeat the likes of Darchinyan. If the Armenian battler arrives in the ring in similar form as recent outings, Moreno will find it difficult keeping him at bay. Though these steady and unspectacular sorts can sometimes be better than originally estimated, there is little to suggest at the moment that Moreno is on Darchinyan's level.
Maybe he'll prove me wrong, but I feel he has somewhat shimmied his way into the upper-reaches of the bantamweight division–building a reputation with a long unbeaten streak, while the other members of the top-tier are fighting each other.
Both fighters have a lot on the line. Darchinyan's footing as a top guy is loosening a bit and a setback here would be disastrous at his age. Moreno, meanwhile, is trying to get into boxing's big-time. With a growing family, he should have the hunger of a challenger in this fight, even though he is the reigning titleholder.
Moreno has good punch anticipation and a great sense of distance. That cleverness can go a long way in this fight. But it takes more than that to keep Darchinyan neutralized. Being wiry and slick is nice, but he might have a difficult time earning Darchinyan's respect. The one-punch power of Nonito Donaire gave Vic problems. The hard-hitting and multi-dimensional boxer/slugger Joseph Agbeko gave him problems. As did the rabid trench-fighting Mares.
Moreno's steadiness and professionalism will keep him in the fight, but at some point, Vic is going to start getting to him. In the middle rounds, look for Darchinyan to establish a little momentum, before lowering the boom on Moreno.
Prediction: Vic Darchinyan wins by 9th-round knockout.