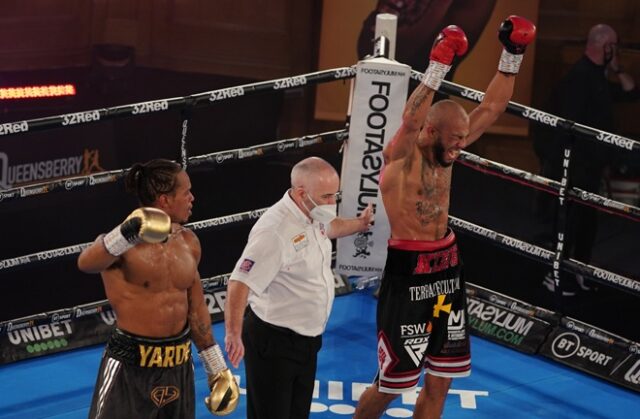 Lyndon Arthur established himself as one of the premier British Light Heavyweights when he beat Anthony Yarde in December.
Arthur, under the instructions of trainer Pat Barrett executed the game plan and withstood a late onslaught to secure a split decision win over Yarde and added the vacant WBO Inter-Continental title to his Commonwealth crown.
The pair will appear on the same bill, but in separate fights, on July 10 and whilst a rematch is set to take place in the autumn according to Hall of Fame promoter Frank Warren, Barrett would prefer if it was made for a world title.
"As I said before that fight is gone now we don't look back at that now," Barrett told proboxing-fans.com.
"We won the fight, we got the decision it's just time to totally move on and I've got no intentions of looking back at Anthony Yarde, because at the moment there's nothing to look back on until he actually gets back to where he was and needs to be.
"Winning titles and winning fights and doing what he does best."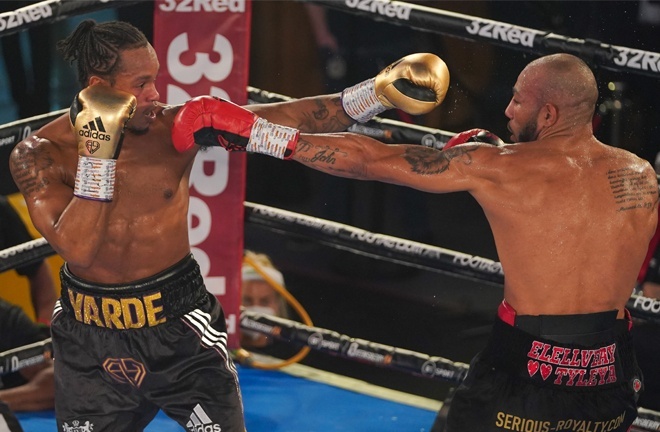 Asked if a rematch was of interest, the former British and European champion added: "If it was for a world title, yes, for a normal fight no.
"Because, really and truly it doesn't have nothing to bring to the table. We won the WBO [Inter-Continental belt] it was vacant and Lyndon was the [Commonwealth] champion when we fought him.
"So, even when we fought him then, we were the champion as we fought him and now we are still the champion, so really and truly why do we want to go back to fight somebody who hasn't got nothing when we're going to try and elevate them?"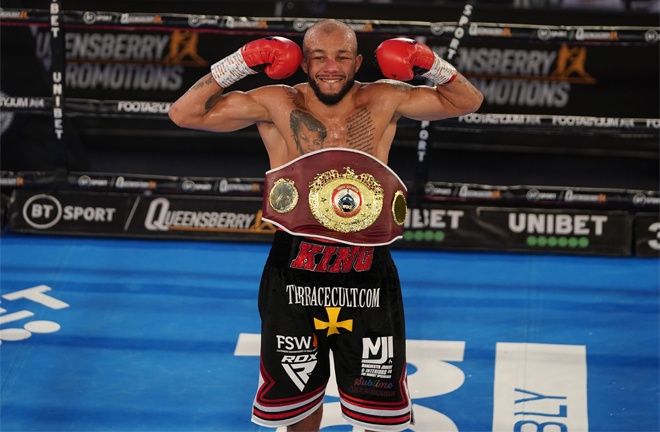 'King Arthur' is the number one rated contender to the WBO world title held by Joe Smith Jr, who claimed the vacant title with a majority decision win over Maxim Vlasov in April.
The 30-year-old headlines against unbeaten Davide Faraci at the Royal Albert Hall next month. Barrett who challenged for world honours himself as a professional insists they will not look past the Italian and wants his charge to gain as much experience as possible before fighting for a world title.
"Step by step," Barrett added.
"Lyndon's now got to defend his WBO Inter-Continental, that's what you do you don't look past something and then go for something else.
"Once he's learnt his game defending his Inter-Continental then we move on to the actual WBO world title, because we don't want be moments behind it.
"So then once we've learnt our apprenticeships there then we're ready for the world title. This is why you win certain other titles before you go on, you don't skip and say, 'I'm ready to fight for a world title', without being tested on a British level.
"I don't want to get to the top to come back down to start all over again.
"If we don't win, we don't win because we got in the ring with someone who was better than us, not because we didn't have the experience."
Outside of training established professionals in Arthur and Zelfa Barrett, as well as the next generation, Pat runs his own promotional company, Black Flash Promotions.
A small hall boxing firm, Black Flash Promotions have two upcoming shows on July 24 at the Victoria Warehouse, Manchester and on July 30 at The Devonshire House Hotel, Liverpool and the Manchester native is relishing the opportunity to return and bring through the next generation.
"Black Flash Promotions is getting there pretty quick, it's getting the rightful respect.
"I always want to remain small hall, because I like the grassroots. I like bringing them through from the bottom and making sure they get that proper, solid background.
View this post on Instagram
"I have got the next generation of Zelfa and Lyndon's coming through right now.
"I'm also managing and promoting kids as well where I don't train them and I also enjoy that as well, because I'm giving them the chance to showcase on small hall shows, to get that solid platform and everybody is seeing what it's doing.
"So the grassroots now is starting to grow."
Watch the full interview with Pat Barrett below: