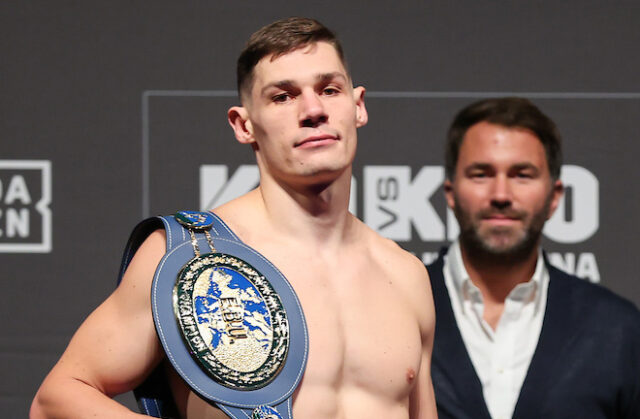 Chris Billam-Smith says he will be ready for a world title opportunity within the next 12 months, but admits he wants to gain as much as experience as he can first.
Billam-Smith (13-1, 10 KOs) returns to action on Saturday night defending his European cruiserweight title for the first time against Dylan Bregeon on the undercard of Kid Galahad's maiden IBF featherweight title defence against Kiko Martinez in Sheffield.
The Bournemouth man is highly-ranked in all four governing bodies and whilst a clash with stablemate and WBO champion, Lawrence Okolie is not a possibility, the 31-year-old is keen to fight one of the other three titlists, but after a few more fights under his belt first.
"Obviously me and Lawrence are never going to fight," Billam-Smith told proboxing-fans.com at Thursday's press conference.
"I've only had 14 fights and I've said it numerous times, I don't want to just box for a world title, I want to win one and I want to stay there.
"I don't want to just get the weakest champion or a vacant belt and then be put in there with someone I'm not ready for.
"I'm very grounded, I'm very aware of my experience so far and I think I just need a few more fights, experience, a few more camps under me with good sparring and then I'm ready for those fights.
"In a year's time we'll definitely be looking at world titles."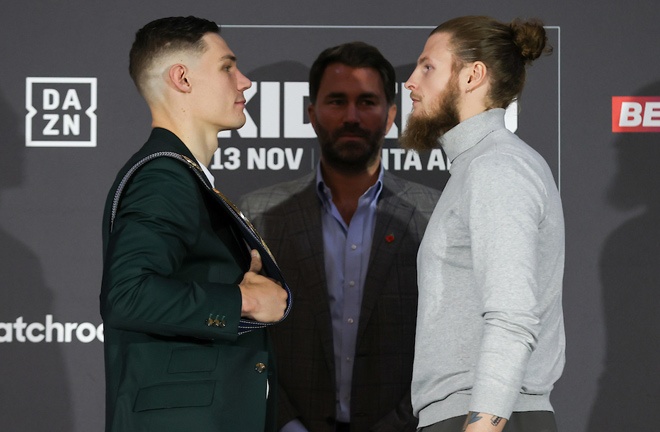 'The Gentleman' secured the European title and added the vacant British title to his Commonwealth crown with a split decision victory over Tommy McCarthy at Fight Camp in August.
Bregeon (11-1-1, 3 KOs) was beaten on a close unanimous decision to European Union cruiserweight champion, Fabio Turchi in April and Billam-Smith says he is looking for a clinical performance against the Frenchman.
"For me it's a bit more composure in the ring," he added.
"I thought I was just going to be able to walk forward and keep wearing Tommy [McCarthy] down and he was a lot more slippery than I expected, a few counters, I was a bit too over eager at times.
View this post on Instagram
"So, Saturday night it'll be a lot more composed, sharp performance and a bit more calculated and its about being clinical really.
"He's tall, rangy and awkward and throws a lot of shots."
Watch the full interview with Chris Billam-Smith below: