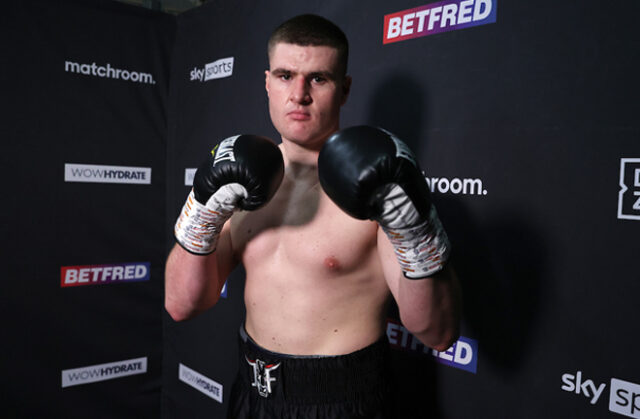 Heavyweight prospect Johnny Fisher admits he would be open to facing Christopher Lovejoy if he gets past Josh Sandland at Fight Camp.
Fisher (2-0, 2 KOs) faces Sandland (5-3-1) on August 7 in the second of the three-week series of Matchroom Boxing's Fight Camp from the gardens of their headquarters.
'The Romford Bull' was  linked to a clash with the American, prior to his knockout loss to Mahmoud Charr in Cologne last month, but the 22-year-old says a meeting with Lovejoy, who infamously saw an October bout with Dave Allen fall through on fight week is still of interest to him.
"I really like Christopher Lovejoy as it goes," Fisher told proboxing-fans.com
"I think he's good at what he does, he's a talker. Listen I'd love to fight him, no problem at all, I'd fight him tomorrow.
"But, he calls out a different person every day, he knows what he's doing, he's great at building hype for a fight.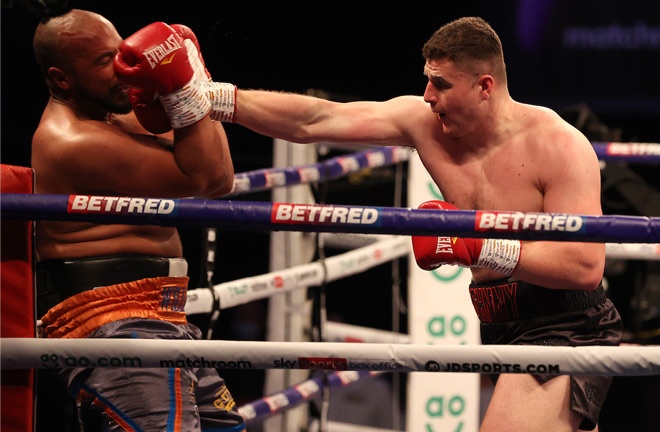 "I was doing a live interview with him and I was talking about Joe Joyce and he went, 'forget Johnny Fisher, Joe Joyce doesn't want that smoke.'
"So, he'll call out anyone, any place, so credit to him, but I think he's bitten off more than he can chew with Joe Joyce if he wants to fight him.
"The fight after this one, I'd fight him, no problem at all."
Fisher, an Exeter university graduate, has won his first two professional bouts by stoppage, beating Matt Gordon and Phil Williams most recently on the undercard of Joseph Parker's split decision victory over Derek Chisora in Manchester in May.
The popular Heavyweight will have lead trainer Mark Tibbs in his corner for the first time when he tackles Sandland, after Tibbs was forced to miss his first two bouts, having been in the USA training Billy Joe Saunders for his fight with Canelo Alvarez in May and the Romford man is expecting a tough test against the former Ultimate Boxxer semi-finalist.
"He's an experienced guy, a bit of a step-up it's going to be," Fisher added.
"He can box, he can have a tear-up, so I've got to be ready for either and Mark Tibbs is very confident in taking this fight, so we'll be ready to go.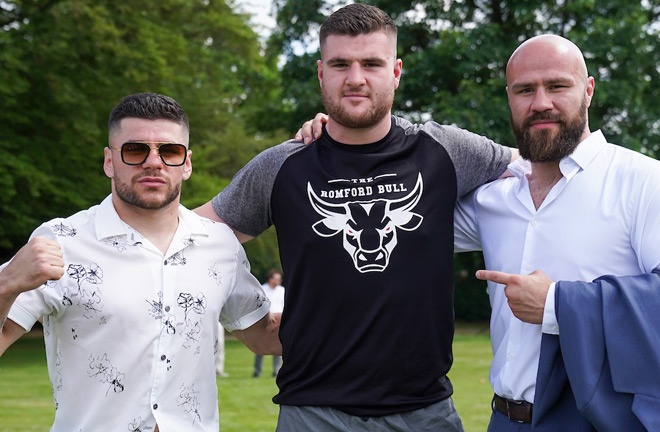 "My last fight, Phil Williams, tough man but he didn't really come to fight and his whole job is to sort of survive, but I'm a better boxer, a better fighter when somebody has a go as well, so I'm looking forward to having a bit of a tear-up.
"I'm learning on the job more than anyone. It's a cliche but I am really learning on the job, because I had four senior fights and I had six junior fights, so nothing really.
"I don't see it as I'm expected to beat Josh Sandland. I'm expected to beat him if I perform to my best, but that can not happen.
"So, I've got to be prepared, I've got to knuckle down and I've got to listen to the gameplan, that's the difficult thing about this fight.
"With the other two it was like just do what you naturally do, with this one [I'll] still do what I naturally do, but you've got to have a gameplan, you've got to be a bit more wary of what's coming back, because Josh Sandland can fight."
Fisher is a managerial stablemate of Joe Joyce at S-JAM Boxing and has shared the ring with him in sparring on several occasions.
The 'Juggernaut' returns to the ring against former world title challenger, Carlos Takam at the Royal Albert Hall on July 24 and Fisher, who has also sparred the likes of former world title challenger, Hughie Fury and English champion, Fabio Wardley believes the Frenchman suits Joyce's style.
View this post on Instagram
"He's as tough as old boots, Carlos Takam," he continued.
"But, I think he's perfect for Joe really, because Joe's got that relentless style as well and he's twice as big as Carlos Takam, so hopefully he gets the win and he puts himself in a position for a world title shot."
Watch the full interview with Johnny Fisher below: