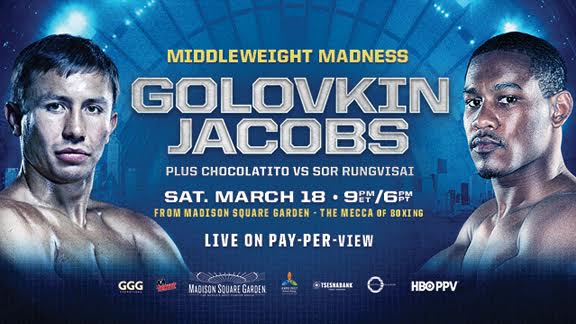 Gennady "GGG" Golovkin has proven to be a wrecking ball throughout his career. As the wins have piled up, so have his greatest hits and highlights.
Right here, you can watch a full collection of Golovkin's best moments in the ring, from the biggest punches and hardest knockouts, to the thrilling victories along the way.
This is all in advance of Golovkin's next fight, just over two weeks away. He'll be taking on fellow middleweight titleholder Daniel Jacobs, in what some believe is the toughest fight of his career.
Of course, if it's the toughest fight for Golovkin, it's by leaps and bounds the toughest challenge for Jacobs. And though he's come a long way since his early years, Jacobs is a fighter who has been stopped before, and hurt in other fights by far lesser opponents than Golovkin. None of that bodes well for him when he steps into the ring against GGG.
Watch some of the best moments in the career of undefeated superstar Gennady Golovkin. Golovkin vs. Jacobs happens Saturday, March 18 live on pay-per-view beginning at 9pm ET/6pm PT.
Comments
comments