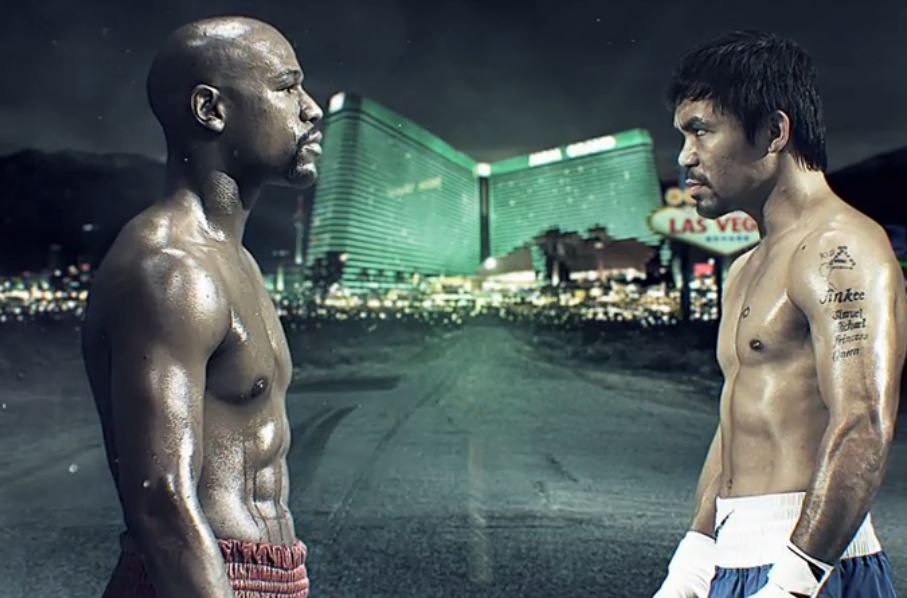 With less than a month to go until the showdown between Floyd "Money" Mayweather and Manny "Pac-Man" Pacquiao, the collective team for the Mayweather vs. Pacquiao promotion released the commercial spot today touting the pay-per-view event.
Watch the official Mayweather vs. Pacquiao commercial video here, which was filmed with both prizefighters in a Los Angeles studio on the evening of March 11. It's a creative collaboration between Mayweather Promotions, Top Rank, SHOWTIME PPV® and HBO Pay-Per-View®.
The 30-second spot highlights the anticipation and the great magnitude of this once-in-a-lifetime event. It serves as the lynchpin to an aggressive multi-media marketing campaign that will take place in the next four weeks. The overall Mayweather vs. Pacquiao marketing campaign is expected to receive unprecedented levels of support from pay-per-view providers.
The showdown takes place Saturday, May 2 from the MGM Grand Garden Arena.
Plus, we also have several other Mayweather vs. Pacquiao video updates for you here. That includes Harold Lederman sharing his thoughts on Mayweather-Pacquoiao in his latest Hey Harold series:
https://www.youtube.com/watch?v=dgWk1XNX9Gc
A preview of the At Last special starring Manny Pacquiao on HBO:
https://www.youtube.com/watch?v=mfEyBvKyVmY
And last but not least, a video highlight reel of Manny Pacquiao's greatest hits:
https://www.youtube.com/watch?v=GWH4-bjrcxc
Enjoy all the videos and keep on checking back for more updates right here at ProBoxing-Fans.com.