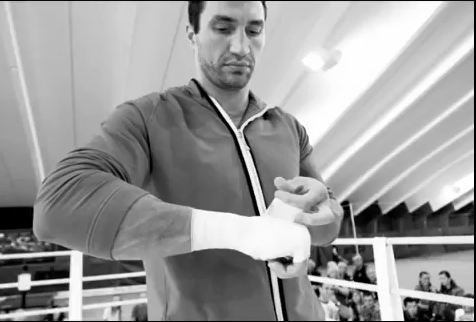 It's no secret that Wladimir Klitschko is of course trained by the legendary Emanuel Steward, and he represents the Kronk Gym. In this video of Klitschko, you'll be taken into his training camp for some behind the scenes action, and you'll get to see the heavyweight champion at work. He's preparing for a title bout, and he's doing so with the help of Steve Cunningham, the top cruiserweight in the world, and a pretty good guy to be in the ring with before facing off against a challenger like David Haye. Watch the video below.
Steward has many other notable fighters in the stable, including middleweight Andy Lee, who is in action this weekend on the Martinez-Barker undercard when he meets Bryan Vera in a rematch, Vera having previously beaten the then undefeated Lee. In preparation for his most recent fight against David Haye, and for his potential future clash against rumored challenger Jean Marc Mormeck, Klitschko has also been working extensively with cruiserweight champion Steve "USS" Cunningham. Cunningham is also in action this weekend when he defends his title against challenger Yoan Pablo Hernandez.
In addition to sparring with USS Cunningham, we also see another top cruiserweight contender get in the ring with him, Ola Afolabi. There's a handful of additional Kronk fighters around as well.
So in this video clip, you'll see Klitschko sparring with Cunningham, you'll see Lee milling about, you'll see Steward, you'll see the fighters going about their business and much more. It's all filmed in a fast-paced, quick scene, black and white style with some music from TV on the Radio in the background, making for a fun and lively watch that makes you feel like you're there and seeing it all for yourself.
Enjoy this video of Klitschko training, and sparring with Steve Cunningham.